2023 Evergreen Award™ Nominees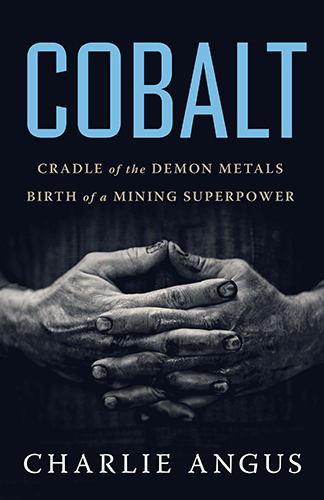 Cobalt: Cradle of the Demon Metals, Birth of a Mining Superpower
Written by Charlie Angus
Published by House of Anansi Press
The world is desperate for cobalt. It drives the proliferation of digital and clean technologies. But this "demon metal" has a horrific present and a troubled history.
The modern search for cobalt has brought investors back to a small town in Northern Canada, a place called Cobalt. Like the demon metal, this town has a dark and turbulent history. 
The tale of the early-twentieth-century mining rush at Cobalt has been told as a settler's adventure, but Indigenous people had already been trading in metals from the region for two thousand years. And the events that happened here — the theft of Indigenous lands, the exploitation of a multicultural workforce, and the destruction of the natural environment — established a template for resource extraction that has been exported around the world. 
Charlie Angus reframes the complex and intersectional history of Cobalt within a broader international frame — from the conquistadores to the Western gold rush to the struggles in the Democratic Republic of Congo today. He demonstrates how Cobalt set Canada on its path to become the world's dominant mining superpower.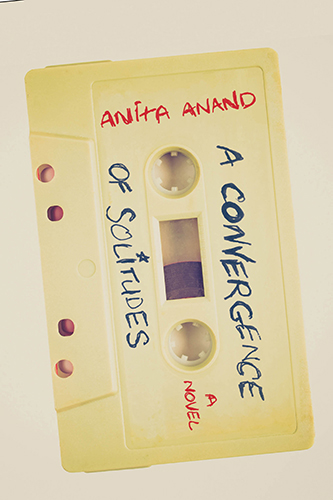 A Convergence of Solitudes
Written by Anita Anand
Published by Book*hug Press
A story of identity, connection, and forgiveness, A Convergence of Solitudes presents the lives of two families across the Partition of India, Vietnam's Operation Babylift, and two Quebec referendums.
Teenage lovers Sunil and Hima defy taboos to come together as India divides in two. They traverse the world to Montreal and raise a family, but Sunil shows symptoms of schizophrenia, shattering their new-found peace. As a teenager, their daughter Rani becomes obsessed with Québécois supergroup Sensibilité —and the band's charismatic, nationalistic frontman, Serge—connecting her to the province's struggle for cultural freedom. When a chance encounter leads Rani to babysit Mélanie, Serge's adopted daughter from Vietnam, she fleetingly enters his inner circle.
Years later, Rani, now a college guidance counsellor, discovers that Mélanie has booked an appointment to discuss her future at the school. Unmoved by her father's staunch patriotism and her British mother's bourgeois ways, Mélanie struggles with uncertainty about her identity. As the two women's lives intersect, Rani's fascination with Serge's music becomes a strange shadow amidst their friendship.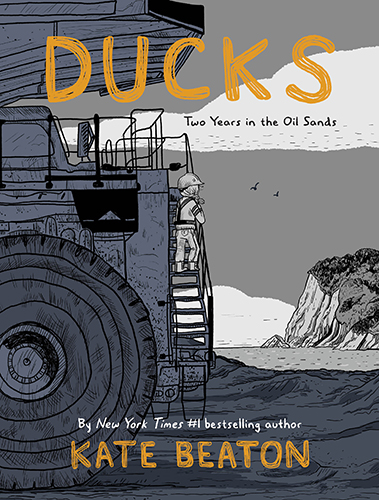 Ducks: Two Years in the Oil Sands
Written & Illustrated by Kate Beaton
Published by Drawn & Quarterly
Before there was Kate Beaton, New York Times bestselling cartoonist of Hark! A Vagrant, there was Katie Beaton of the Cape Breton Beatons, specifically Mabou, a tight-knit seaside community where the lobster is as abundant as beaches, fiddles, and Gaelic folk songs. With the singular goal of paying off her student loans, Katie heads out west to take advantage of Alberta's oil rush—part of the long tradition of East Coasters who seek gainful employment elsewhere when they can't find it in the homeland they love so much. Katie encounters the harsh reality of life in the oil sands, where trauma is an everyday occurrence yet is never discussed.
Beaton's natural cartooning prowess is on full display as she draws colossal machinery and mammoth vehicles set against a sublime Albertan backdrop of wildlife, northern lights, and boreal forest. Her first full length graphic narrative, Ducks: Two Years in the Oil Sands is an untold story of Canada: a country that prides itself on its egalitarian ethos and natural beauty while simultaneously exploiting both the riches of its land and the humanity of its people.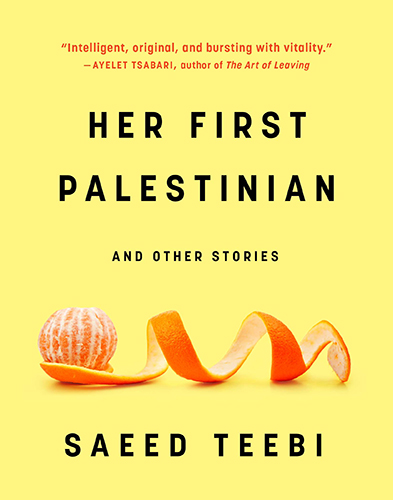 Her First Palestinian: and Other Stories
Written by Saeed Teebi
Published by House of Anansi Press
Saeed Teebi's intense, engrossing stories plunge into the lives of characters grappling with their experiences as Palestinian immigrants to Canada. A doctor teaches his girlfriend about his country, only for her to fall into a consuming obsession with the Middle East conflict. A math professor risks his family's destruction by slandering the king of a despotic, oil-rich country. A university student invents an imaginary girlfriend to fit in with his callous, womanizing roommates. A lawyer takes on the impossible mission of becoming a body smuggler. A lonely widower travels to Russia in search of a movie starlet he met in his youth in historical Jaffa. A refugee who escaped violent circumstances rebels against the kindness of his sponsor. These taut and compelling stories engage the immigrant experience and reflect the Palestinian diaspora with grace and insight.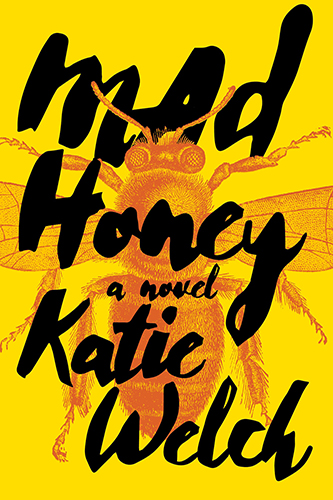 Written by Kate Welch
Published by Wolsak & Wynn Publishers
When Beck Wise vanished his girlfriend Melissa Makepeace poured herself into caring for the family farm, silently absorbing yet another man disappearing from her life. But when Beck reappears three months later, thin, pale, with no idea what day it is and filled with memories of being bees, a series of layered mysteries begins to unravel. What had happened to Beck? Where did her father go? How can she keep the farm together? With gorgeous descriptions, deft characterizations and a page-turning plot, Mad Honey immerses the reader in a search for truth bounded by the everyday magic of beekeeping, of family and of finding peace, all while asking how much we really understand the natural world.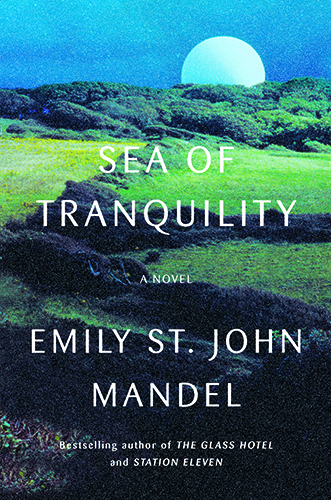 Sea of Tranquility: A Novel
Written by Emily St. John Mandel
Published by HarperCollins Publishers Ltd.
Edwin St. Andrew is eighteen years old when he crosses the Atlantic by steamship, exiled from polite society following an ill-conceived diatribe at a dinner party. He enters the forest, spellbound by the beauty of the Canadian wilderness, and suddenly hears the notes of a violin echoing in an airship terminal—an experience that shocks him to his core. 

Two centuries later a famous writer named Olive Llewellyn is on a book tour. She's traveling all over Earth, but her home is the second moon colony, a place of white stone, spired towers, and artificial beauty. Within the text of Olive's best-selling pandemic novel lies a strange passage: a man plays his violin for change in the echoing corridor of an airship terminal as the trees of a forest rise around him. 
Son of Elsewhere: A Memoir in Pieces
Written by Elamin Abdelmahmoud
Published by McClelland & Stewart
Professional wrestling super fandom, Ontario's endlessly unfurling 401 highway, late nights at the convenience store listening to heavy metal—for writer and podcast host Elamin Abdelmahmoud, these are the building blocks of a life. Son of Elsewhere charts that life in wise, funny, and moving reflections on the many threads that weave together into an identity.
Arriving in Canada at age 12 from Sudan, Elamin's teenage years were spent trying on new ways of being in the world, new ways of relating to his almost universally white peers. His is a story of yearning to belong in a time and place where expectation and assumptions around race, faith, language, and origin make such belonging extremely difficult, but it's also a story of the surprising and unexpected ways in which connection and acceptance can be found.
In this extraordinary debut collection, the process of growing—of trying, failing, and trying again to fit in—is cast against the backdrop of the memory of life in a different time, and different place—a Khartoum being bombed by the United States, a nation seeking to define and understand itself against global powers of infinite reach.
Taken together, these essays explore how we pick and choose from our experience and environment to help us in the ongoing project of defining who we are—how, for instance, the example of Mo Salah, the profound grief practices of Islam, the nerdy charm of The O.C.'s Seth Cohen, and the long shadow of colonialism can cohere into a new and powerful whole.
With the perfect balance of relatable humor and intellectual ferocity, Son of Elsewhere confronts what we know about ourselves, and most important, what we're still learning.
This Is Assisted Dying: A Doctor's Story of Empowering Patients at the End of Life
Written by Stefanie Green, MD
Published by Simon and Schuster Canada
Dr. Stefanie Green has been forging new paths in the field of medical assistance in dying since 2016. In her landmark memoir, Dr. Green reveals the reasons a patient might seek an assisted death, how the process works, what the event itself can look like, the reactions of those involved, and what it feels like to oversee proceedings and administer medications that hasten death. She describes the extraordinary people she meets and the unusual circumstances she encounters as she navigates the intricacy, intensity, and utter humanity of these powerful interactions.

Deeply authentic and powerfully emotional, This Is Assisted Dying contextualizes the myriad personal, professional, and practical issues surrounding assisted dying by bringing readers into the room with Dr. Green, sharing the voices of her patients, her colleagues, and her own narrative. As our population confronts issues of wellness, integrity, agency and community, and how to live a connected, meaningful life, this progressive and compassionate book by a physician at the forefront of medically assisted dying offers comfort and potential relief.

This Is Assisted Dying will change the way people think about their choices at the end of life, and show that assisted dying is less about death than about how we wish to live.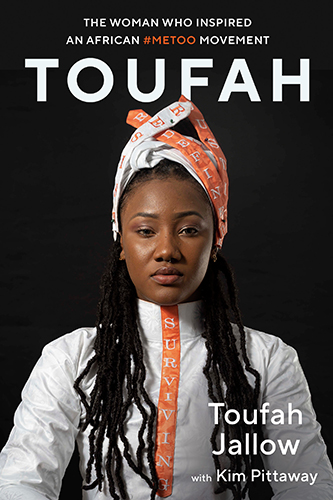 Toufah: The Woman Who Inspired an African #MeToo Movement
Written by Toufah Jallow with Kim Pittaway
Published by Random House Canada
An incandescent and inspiring memoir from a courageous young woman who, after she was forced to flee to Canada from her home in The Gambia, became the first woman to publicly call the country's dictator to account for sexual assault—launching an unprecedented protest movement in West Africa.
In 2015, Toufah Jallow was a nineteen-year-old dreaming of a scholarship. Encouraged by her mother, she entered a presidential competition designed to identify and support the country's smart young women, and she won.
Which brought her to the attention of Yahya Jammeh, the country's dictator, who styled himself as a pious yet progressive protector of women. At first, he behaved in a fatherly fashion towards his winner, but then he proposed marriage. When Toufah turned him down, he drugged and raped her.
She could not tell anyone what happened. Not only was there no word for rape in her native language, if she told her parents, they would take action and incur Jammeh's wrath. Wearing a niqab to hide her identity, she gave his security operatives the slip and fled to Senegal, eventually making her way to safety in Canada.
Then Jammeh was deposed. In July 2019, Toufah Jallow went home to testify against him in a public hearing, sparking marches of support and a social media outpouring of shared stories among West African women. Each bold decision Toufah made helped secure the future Jammeh had tried to steal from her, and also showed her a new path of leadership and advocacy for survivors of sexual violence.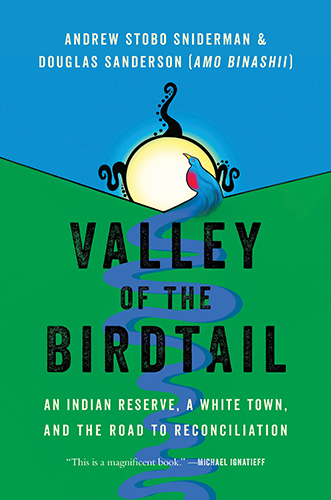 Valley of the Birdtail: An Indian Reserve, a White Town, and the Road to Reconciliation
Written by Andrew Stobo Sniderman and Douglas Sanderson (Amo Binashii)
Published by HarperCollins Publishers Ltd.
Divided by a beautiful valley and 150 years of racism, the town of Rossburn and the Waywayseecappo Indian reserve have been neighbours nearly as long as Canada has been a country. Their story reflects much of what has gone wrong in relations between Indigenous Peoples and non-Indigenous Canadians. It also offers, in the end, an uncommon measure of hope.
Valley of the Birdtail is about how two communities became separate and unequal—and what it means for the rest of us. In Rossburn, once settled by Ukrainian immigrants who fled poverty and persecution, family income is near the national average and more than a third of adults have graduated from university. In Waywayseecappo, the average family lives below the national poverty line and less than a third of adults have graduated from high school, with many haunted by their time in residential schools.
This book follows multiple generations of two families, one white and one Indigenous, and weaves their lives into the larger story of Canada. It is a story of villains and heroes, irony and idealism, racism and reconciliation. Valley of the Birdtail has the ambition to change the way we think about our past and show a path to a better future.