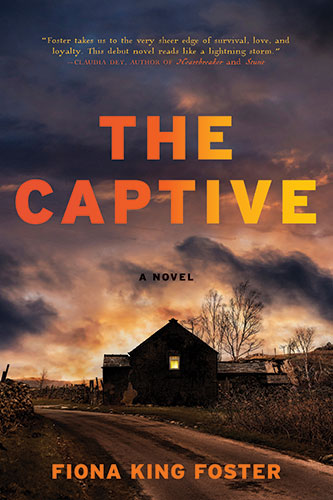 Written by Fiona King Foster
Published by HarperCollins Publishers
A rural noir about a woman on a pulse-pounding expedition to deliver a fugitive—and forced to confront her own past on the journey.
In a secessionist rural state that has cut itself off completely from urban centres, where living is hardscrabble and poor but "free," Brooke Holland runs a farm with her husband, Milo, and two daughters. Their life at the fringes of modern society is tenuous—they make barely enough from each harvest to keep going—yet Brooke cherishes the loving, peaceful life they have carved out for themselves. She has even begun to believe she is free from the violent history she has kept a secret from her family.
When escaped criminal Stephen Cawley attacks at the farm, Brooke's buried talents surface, and she manages to quickly and harshly subdue him. She is convinced that he has come in retribution for the blood feud she thought she escaped years ago. Brooke sets out to bring Cawley to justice, planning to use the bounty on his head to hide her family far from danger. Fearing that other members of Cawley's infamous family will soon descend, Brooke insists Milo and the girls flee with her, travelling miles on foot across an unforgiving landscape to reach the nearest marshal. Their journey, started at the onset of winter with little preparation, brings already strained family dynamics to the breaking point. As Brooke's ghosts—both real and imagined—close in, the ruthlessness that let her survive her past may become the biggest threat to her hopes for a different future. What follows is a harrowing exploration of family loyalty, trauma, and resilience.
As haunting and propulsive as it is powerfully written, The Captive is a thrilling debut novel about the impossible choices we make to survive and protect the ones we love.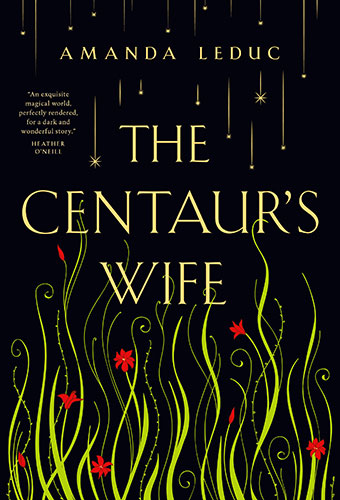 Written by Amanda Leduc
Published by Random House Canada
Amanda Leduc's brilliant new novel, woven with fairy tales of her own devising and replete with both catastrophe and magic, is a vision of what happens when we ignore the natural world and the darker parts of our own natures.
Heather is sleeping peacefully after the birth of her twin daughters when the sound of the world ending jolts her awake. Stumbling outside with her babies and her new husband, Brendan, she finds that their city has been destroyed by falling meteors and that her little family are among only a few who survived.
But the mountain that looms over the city is still green—somehow it has been spared the destruction that has brought humanity to the brink of extinction. Heather is one of the few who know the mountain, a place city-dwellers have always been forbidden to go. Her dad took her up the mountain when she was a child on a misguided quest to heal her legs, damaged at birth. The tragedy that resulted has shaped her life, bringing her both great sorrow and an undying connection to the deep magic of the mountain, made real by the beings she and her dad encountered that day: Estajfan, a centaur born of sorrow and of an ancient, impossible love, and his two siblings, marooned between the magical and the human world. Even as those in the city around her—led by Tasha, a charismatic doctor who fled to the city from the coast with her wife and other refugees—struggle to keep everyone alive, Heather constantly looks to the mountain, drawn by love, by fear, by the desire for rescue. She is torn in two by her awareness of what unleashed the meteor shower and what is coming for the few survivors, once the green and living earth makes a final reckoning of the usefulness of human life and finds it wanting.
At times devastating, but ultimately redemptive, Amanda Leduc's fable for our uncertain times reminds us that the most important things in life aren't things at all, but rather the people we want by our side at the end of the world.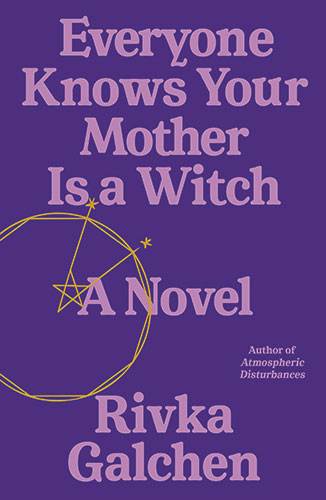 Everyone Knows Your Mother Is a Witch
Written by Rivka Galchen
Published by Harper Perennial
The startling, witty, highly anticipated second novel from the critically acclaimed author of Atmospheric Disturbances
It is 1618 in the German duchy of Württemberg. Plague is spreading, the Thirty Years' War has begun, and fear and suspicion are in the air throughout the Holy Roman Empire. In the small town of Leonberg, Katharina Kepler, an illiterate widow, is accused of being a witch.
Katharina is known for her herbal remedies and the success of her children. Her eldest, Johannes, is the Imperial Mathematician and the renowned author of the laws of planetary motion. It's enough to make anyone envious, and Katharina has done herself no favours by going out and about and being in everyone's business.
So when the deranged and insipid Ursula Reinbold (or as Katharina calls her, the Werewolf) accuses Katharina of making her ill by offering her a bitter, witchy drink, Katharina is in trouble. Her scientist son must turn his attention from the music of the spheres to the job of defending his mother. Facing the threat of financial ruin, torture and even execution, Katharina tells her side of the story to her friend and neighbour Simon, a reclusive widower imperiled by his own secrets.
Drawing on real historical documents but infused with the intensity of imagination, sly humour and intellectual fire for which Rivka Galchen is known, Everyone Knows Your Mother Is a Witch will both provoke and entertain. The story of how a community becomes implicated in collective aggression and hysterical fear is a tale for our time. Galchen's bold new novel touchingly illuminates a family and a society undone by superstition, the state and the mortal convulsions of history.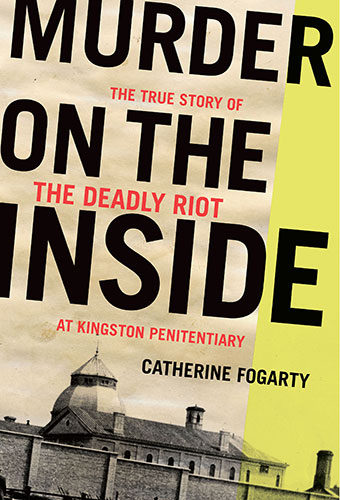 Murder on the Inside: The True Story of the Deadly Riot at Kingston Penitentiary
Written by Catherine Fogarty
Published by Biblioasis
"You have taken our civil rights—we want our human rights."
On April 14, 1971, a handful of prisoners attacked the guards at Kingston Penitentiary and seized control, making headlines around the world. For four intense days, the prisoners held the guards hostage while their leaders negotiated with a citizens' committee of journalists and lawyers, drawing attention to the dehumanizing realities of their incarceration, including overcrowding, harsh punishment and extreme isolation. But when another group of convicts turned their pent-up rage towards some of the weakest prisoners, tensions inside the old stone walls erupted, with tragic consequences. As heavily armed soldiers prepared to regain control of the prison through a full military assault, the inmates were finally forced to surrender.
Murder on the Inside tells the harrowing story of a prison in crisis against the backdrop of a pivotal moment in the history of human rights. Occurring just months before the uprising at Attica Prison, the Kingston riot has remained largely undocumented, and few have known the details—yet the tense drama chronicled here is more relevant today than ever. A gripping account of the standoff and the efforts for justice and reform it inspired, Murder on the Inside is essential reading for our times.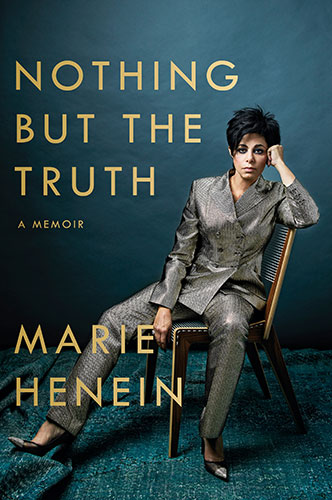 Nothing But The Truth: A Memoir
Written by Marie Henein
Published by Signal
An intimate and no-holds-barred memoir by Canada's top defence lawyer, Nothing But the Truth weaves Marie Henein's personal story with her strongly held views on society's most pressing issues, legal and otherwise.
With Nothing But the Truth, Marie Henein, arguably the most sought-after lawyer in the country, has written a memoir that is at once raw, beautiful, and altogether unforgettable. Her story, as an immigrant from a tightknit Egyptian-Lebanese family, demonstrates the value of strong role models—from her mother and grandmother, to her brilliant uncle Sami who died of AIDS. She learned the value of hard work, being true to herself and others, and unapologetically owning it all.
Marie Henein shares here her unvarnished view on the ethical and practical implications of being a criminal lawyer, and how the job is misunderstood and even demonized. Ironically, her most successful cases made her a "lightning rod" in some circles, confirming her belief that much of the public's understanding of the justice system is based on popular culture, and social media, and decidedly not the rule of law. As she turns 50 and struggles with the corrosive effect on women of becoming invisible, Marie doubles down on being even more highly visible and opinionated as she deconstructs, among other things, the otherness of the immigrant experience (Where are you really from?), the pros and cons of being a household name in this country, opening her own boutique law firm, and the likes of Martha Stewart and her commoditization of previously unpaid female labour. Nothing But the Truth is refreshingly unconstrained and surprising—a woman at the top of her game in a male-dominated world.
Permanent Astonishment: A Memoir
Written by Tomson Highway
Published by Doubleday Canada
Capricious, big-hearted, joyful: an epic memoir from one of Canada's most acclaimed Indigenous writers and performers
Tomson Highway was born in a snowbank on an island in the sub-Arctic, the eleventh of twelve children in a nomadic, caribou-hunting Cree family. Growing up in a land of ten thousand lakes and islands, Tomson relished being pulled by dogsled beneath a night sky alive with stars, sucking the juices from roasted muskrat tails, and singing country music songs with his impossibly beautiful older sister and her teenaged friends. Surrounded by the love of his family and the vast, mesmerizing landscape they called home, his was in many ways an idyllic far-north childhood. But five of Tomson's siblings died in childhood, and Balazee and Joe Highway, who loved their surviving children profoundly, wanted their two youngest sons, Tomson and Rene, to enjoy opportunities as big as the world. And so when Tomson was six, he was flown south by float plane to attend a residential school. A year later Rene joined him to begin the rest of their education. In 1990 Rene Highway, a world-renowned dancer, died of an AIDS-related illness. Permanent Astonishment: Growing Up in the Land of Snow and Sky is Tomson's extravagant embrace of his younger brother's final words: "Don't mourn me, be joyful." His memoir offers insights, both hilarious and profound, into the Cree experience of culture, conquest, and survival.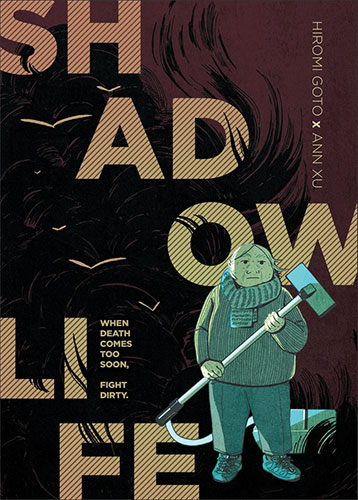 Written by Hiromi Goto, Illustrated by Ann Xu
Published by First Second
Poet and novelist Hiromi Goto effortlessly blends wry, observational slice-of-life literary fiction with poetic magical realism in the tender and surprising graphic novel Shadow Life, with haunting art from debut artist Ann Xu.
When Kumiko's well-meaning adult daughters place her in an assisted living home, the seventy-six-year-old widow gives it a try, but it's not where she wants to be. She goes on the lam and finds a cozy bachelor apartment, keeping the location secret even while communicating online with her eldest daughter. Kumiko revels in the small, daily pleasures: decorating as she pleases, eating what she wants, and swimming in the community pool. But something has followed her from her former residence—Death's shadow.
Kumiko's sweet life is shattered when Death's shadow swoops in to collect her. With her quick mind and sense of humour, Kumiko, with the help of friends new and old, is prepared for the fight of her life. But how long can an old woman thwart fate?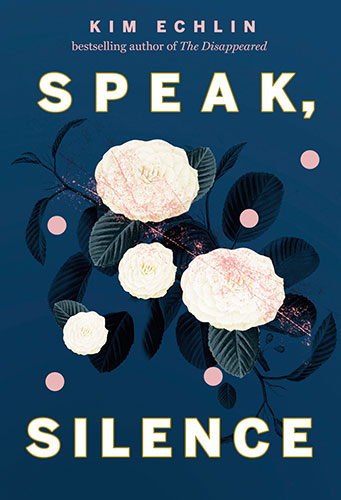 Written by Kim Echlin
Published by Hamish Hamilton Canada
From the internationally bestselling and Giller-shortlisted author of The Disappeared, an astounding, poetic novel about war and loss, suffering and courage, and the strength of women through it all.
It's been eleven years since Gota has seen Kosmos, yet she still finds herself fantasizing about their intimate year together in Paris. Now it's 1999 and, working as a journalist, she hears about a film festival in Sarajevo, where she knows Kosmos will be with his theatre company. She takes the assignment to investigate the fallout of the Bosnian war—and to reconnect with the love of her life.
But when they are reunited, she finds a man, and a country, altered beyond recognition. Kosmos introduces Gota to Edina, the woman he has always loved. While Gota treads the precarious terrain of her evolving connection to Kosmos, she and Edina forge an unexpected bond. A lawyer and a force to be reckoned with, Edina exposes the sexual violence that she and thousands of others survived in the war. Before long, Gota finds her life entwined with the community of women and travels with them to The Hague to confront their abusers. The events she covers—and the stories she hears—will change her life forever.
Written in Kim Echlin's masterfully luminescent prose, Speak, Silence weaves together the experiences of a resilient sisterhood and tells the story of the real-life trial that would come to shape history. In a heart-wrenching tale of suffering and loss and a beautiful illustration of power and love, Echlin explores what it means to speak out against the very people who would do anything to silence you.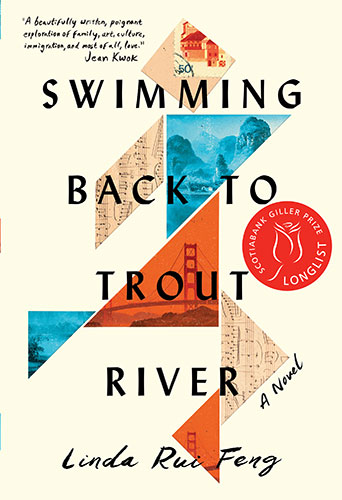 Swimming Back to Trout River
Written by by Linda Rui Feng
Published by Simon & Schuster Canada
A lyrical novel set against the backdrop of China's Cultural Revolution that follows a father's quest to reunite his family before his precocious daughter's momentous birthday, which Garth Greenwell calls "one of the most beautiful debuts I've read in years."
How many times in life can we start over without losing ourselves?
In the summer of 1986 in a small Chinese village, ten-year-old Junie receives a momentous letter from her parents, who had left for America years ago: her father promises to return home and collect her by her twelfth birthday. But Junie's growing determination to stay put in the idyllic countryside with her beloved grandparents threatens to derail her family's shared future.
What Junie doesn't know is that her parents, Momo and Cassia, are newly estranged from one another in their adopted country, each holding close private tragedies and histories from the tumultuous years of their youth during China's Cultural Revolution. While Momo grapples anew with his deferred musical ambitions and dreams for Junie's future in America, Cassia finally begins to wrestle with a shocking act of brutality from years ago. In order for Momo to fulfill his promise, he must make one last desperate attempt to reunite all three members of the family before Junie's birthday—even if it means bringing painful family secrets to light.
"A beautifully written, poignant exploration of family, art, culture, immigration, and most of all, love," (Jean Kwok, New York Times bestselling author of Searching for Sylvie Lee) Swimming Back to Trout River weaves together the stories of Junie, Momo, Cassia, and Dawn—a talented violinist from Momo's past—while depicting their heartbreak and resilience, tenderly revealing the hope, compromises, and abiding ingenuity that make up the lives of immigrants.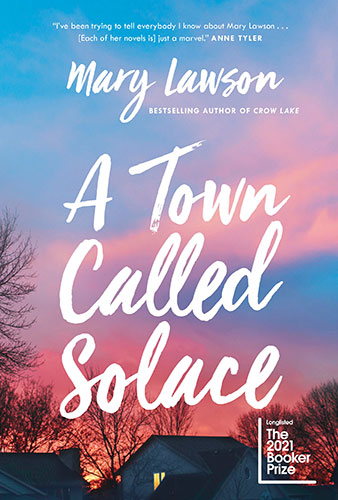 Written by Mary Lawson
Published by Knopf Canada
New York Times bestselling author Mary Lawson, acclaimed for digging into the "wilderness of the human heart", is back after almost a decade with a fresh and timely novel that is different in subject but just as emotional and atmospheric as her beloved earlier work.
A Town Called Solace, the brilliant and emotionally radiant new novel from Mary Lawson, her first in nearly a decade, opens on a family in crisis. Sixteen-year-old Rose is missing. Angry and rebellious, she had a row with her mother, stormed out of the house and simply disappeared. Left behind is seven-year-old Clara, Rose's adoring little sister. Isolated by her parents' efforts to protect her from the truth, Clara is bewildered and distraught. Her sole comfort is Moses, the cat next door, whom she is looking after for his elderly owner, Mrs. Orchard, who went into hospital weeks ago and has still not returned.
Enter Liam Kane, mid-thirties, newly divorced, newly unemployed, newly arrived in this small northern town, who moves into Mrs. Orchard's house—where, in Clara's view, he emphatically does not belong. Within a matter of hours he receives a visit from the police. It seems he is suspected of a crime.
At the end of her life, Elizabeth Orchard is also thinking about a crime, one committed thirty years previously that had tragic consequences for two families, and in particular for one small child. She desperately wants to make amends before she dies.
Told through three distinct, compelling points of view, the novel cuts back and forth among these unforgettable characters to uncover the layers of grief, remorse, and love that connect them. A Town Called Solace is a masterful, suspenseful, darkly funny and deeply humane novel by one of our great storytellers.