Written by Lawrence Hill 
Published by HarperCollins Publishers Ltd.
BOOK SYNOPSIS
Beatrice, a young girl of uncertain age, wakes up all alone in a tree house in the forest. How did she arrive in this cozy dwelling, stocked carefully with bookshelves and oatmeal accouterments? And who has been leaving a trail of clues, composed in delicate purple handwriting?
So begins the adventure of a brave and resilient Black girl's search for identity and healing in bestselling author Lawrence Hill's middle-grade debut. Though Beatrice cannot recall how or why she arrived in the magical forest of Argilia—where every conceivable fish, bird, mammal and reptile coexist, and any creature with a beating heart can communicate with any other—something within tells her that beyond this forest is a family that is waiting anxiously for her return.
Just outside her tree-house door lives Beatrice's most unlikely ally, the enormous and mercurial King Crocodile Croc Harry, who just may have a secret of his own. As they form an unusual truce and work toward their common goal, Beatrice and Croc Harry will learn more about their forest home than they ever could have imagined. And what they learn about themselves may destroy Beatrice's chances of returning home forever.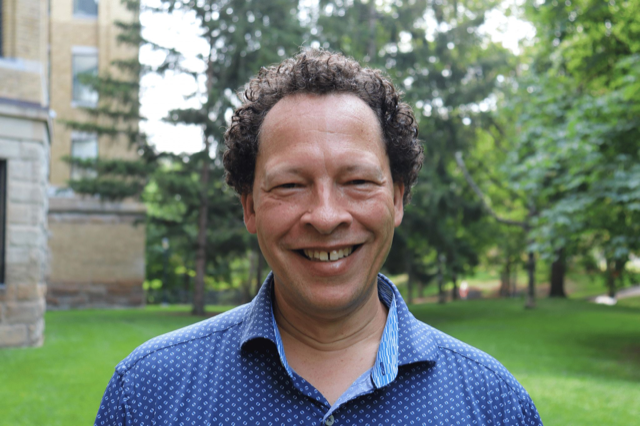 LAWRENCE HILL
LAWRENCE HILL lives in Hamilton ON and in Woody Point, NL. He is married to the writer Miranda Hill. They have five grown children and a granddaughter. He began writing at the age of six, when his father made him write letters justifying why he deserved to have a kitten, a pair of jeans, a new pair of running shoes, and so forth. He generally got what he asked for, in letters, so he just kept writing. He is the award-winning, internationally bestselling author of eleven books of fiction and nonfiction, including The Book of Negroes and The Illegal. In 2022, HarperCollins Canada published his latest novel Beatrice and Croc Harry.
Larry, as he is known by friends, has volunteered with Crossroads International, The Black Loyalist Heritage Society, and The Ontario Black History Society. A professor of creative writing at the University of Guelph, he also teaches and visits with book clubs in federal penitentiaries. Larry is writing new novel about the thousands of African-American soldiers who helped build the Alaska Highway in northern British Columbia and Yukon during World War Two. He is writing the screenplay for a new TV miniseries in development.
CONTACT INFORMATION
Website: lawrencehill.com
Instagram: @lawrencehillwriter
BIBLIOGRAPHY
Books Published:
Beatrice and Croc Harry. A children's novel. 375 pages. HarperCollins Canada (Toronto). 2022.
Un geste dicté par l'amour: Vie et mort de Donna Hill. (Un récit.) Editions de la Pleine Lune (Montréal). 2019
The Illegal. A novel. 392 pages. HarperCollins Canada (Toronto). 2015 and WW Norton & Co (New York) 2016.
Blood: The Stuff of Life. Non-fiction (2013 Massey Lectures), 365 pages. House of Anansi Press (Toronto). 2013
Dear Sir, I Intend to Burn Your Book: An Anatomy of a Book Burning. An essay. 33 pages. University of Alberta Press (Edmonton). 2013
The Book of Negroes. A novel. 486 pages. HarperCollins (Toronto) and W.W.Norton & Company (New York) — published in the USA as Someone Knows My Name. 2007. Subsequently published in at least twelve other languages, countries or jurisdictions.
The Deserter's Tale: the Story of an Ordinary Soldier Who Walked Away from the War in Iraq. Co-authored with the subject, Joshua Key. Literary non-fiction. 237 pages. House of Anansi Press (Toronto) and Grove Atlantic (New York). 2007. Subsequently published in more than ten other languages or countries.
Black Berry, Sweet Juice: On Being Black and White in Canada. Non-fiction. 246 pages. HarperCollins (Toronto). 2001
Any Known Blood. A novel. 512 pages. HarperCollins (Toronto). 1997. Published in 1999 by William Morrow, New York.
Women of Vision: a History of the Canadian Women's Association. 96 pages. Umbrella Press (Toronto). 1996
Trials and Triumphs: the Story of African-Canadians. 64 pages. A children's history book. Umbrella Press (Toronto). 1993
Some Great Thing. A novel. 240 pages. Turnstone Press (Winnipeg). 1992. Republished in 2009 by HarperCollins (Toronto).
Other Fiction:
"Meet You at the Door." (Revised from The Walrus, 2011.) Short story in Ten Canadian Writers in Context, University of Alberta Press, 2016.
"Not Any More." A short story in Sarindar Dhaliwal: the cartographer's mistake: hockey fields and marigold maps. Robert Langen Art Gallery, Wilfrid Laurier University, Waterloo. 2012
"Meet You at the Door." A short story in The Walrus, January-February issue. 2011
"Conditions Necessary for Revolution." A story. TOK: Writing the New Toronto – Book 2. Zephyr Press (Toronto). 2007
"One of His Good Days." A short story. Descant (Toronto). 1998
"Perpetual and Everlasting." A short story. West Coast Line. (Burnaby). 1995
"So What Are You, Anyway?" A short story. Voices, Canadian Writers of African Descent. HarperCollins (Toronto). 1992