Volunteers are instrumental in providing an amazing experience for the young readers and adult chaperones that attend this event.
Here is all the information you need to have a great volunteering experience at the Festival!
FESTIVAL DATES AND LOCATIONS
The Festival takes place from 10 a.m. to 2 p.m, on May 14 & 15 at Harbourfront Centre (235 Queens Quay W., Toronto, ON)
Please Note: The Festival happens rain or shine.
DUTIES MAY INCLUDE
helping students load and unload from buses
giving directional help throughout the day – wayfinding
supporting programs and nominee workshops
changing signage
helping with the nominee Green Room
accompanying nominees around the site
helping control the crowds during autographing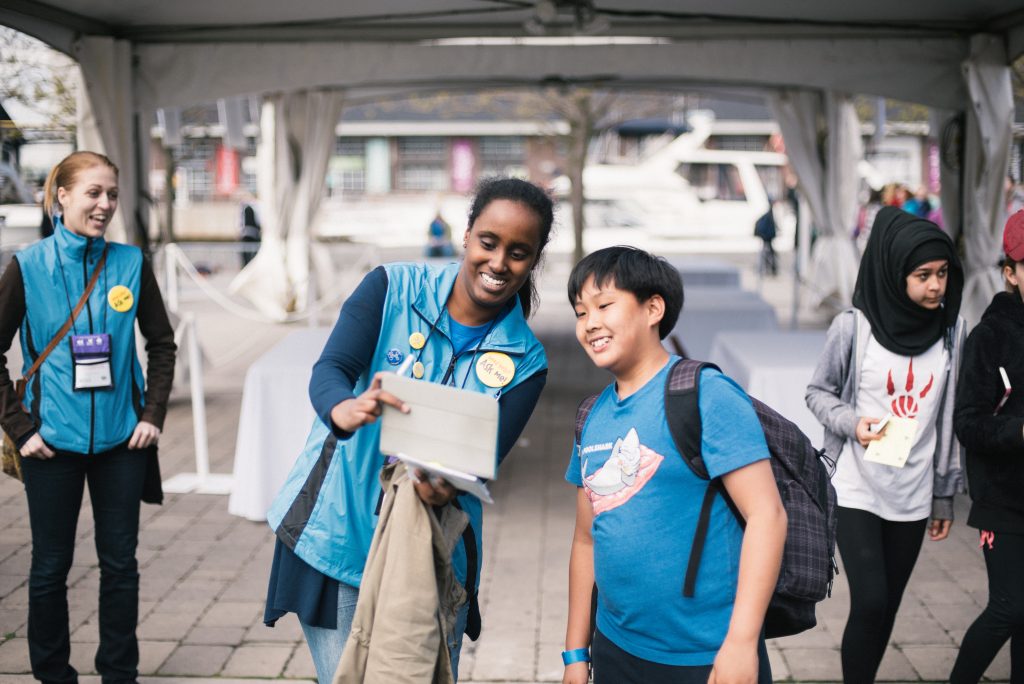 TIME COMMITMENT
Shifts are around 7 hours on the day of the Festival and will run from 8:15 a.m. – 3:00 p.m. Duties are rotated among all the Festival Volunteers when possible. Festival Volunteers will have 30 minutes for lunch.
Please Note: The Toronto (English and Français) Festivals days are indoor AND outdoor events and happen rain or shine.
WHAT TO WEAR
Please wear red, if possible. Generally, we provide red vests to Festival Volunteers and Forest committee members, though we may not have enough vests for all Festival Volunteers. We encourage all Festival Volunteers to wear comfortable shoes and weather-appropriate clothing, as Festival Volunteers will be on their feet for much of the day.
Please dress warmly as Harbourfront Centre is on Lake Ontario, and can be very cool and breezy. Sunscreen and sunglasses are also encouraged.
The Festival has ceremonies, activities, and workshops, inside and outside.
SCHEDULES
Listed on the website you will find a detailed schedule of what is happening. Please familiarize yourself before you arrive and you will be given your posting when you arrive.
May 14: Workshops and Activities
May 15: Workshops and Activities
DIRECTIONS TO THE FESTIVALS
Address: 235 Queens Quay W., Toronto, ON
Parking is available at the Harbourfront Centre, but it is not a covered expense.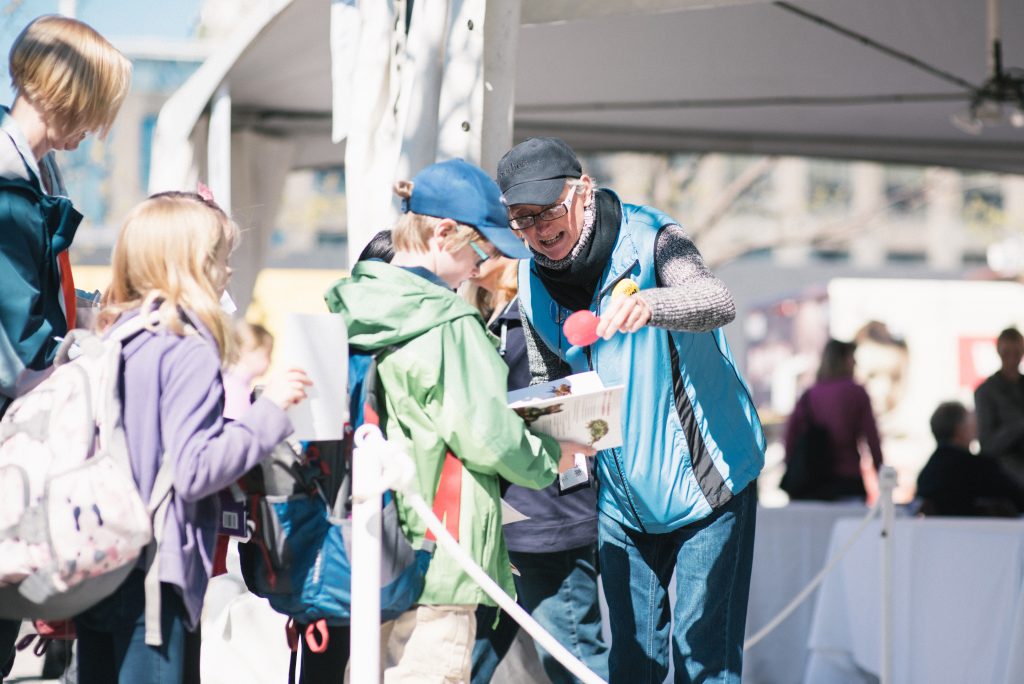 ARRIVE TIME
Please arrive on site at 8:15 a.m. There will be a meeting shortly thereafter with an OLA Staff member or Festival Volunteer Coordinator that will do a venue walk through. Please meet in the following locations:
Loft 1, up the stairs at the front entrance in the Harbourfront Centre Main Building
FOOD AND BEVERAGE
Coffee, water, and juice will be available in the Festival Volunteer Headquarters throughout the day. We ask that you please bring a refillable water bottle. Please bring a non-perishable lunch or purchase food in the area. You will have a break during your Festival Volunteer hours for about 30 minutes.
Food trucks will be onsite to service Festival attendees. We're currently working on confirming which food trucks will be at the Festival.
Across the street/next building: Subway, Pizza Pizza, Grill4U, Quiznos, Mr. Souvlaki, and Tim Hortons
Click Here for a Map of Lunch Options *This map also will be posted at the Festival Volunteer Desk*
CONTACT INFORMATION REGARDING FESTIVAL VOLUNTEERING
Melissa Macks at mmacks@accessola.com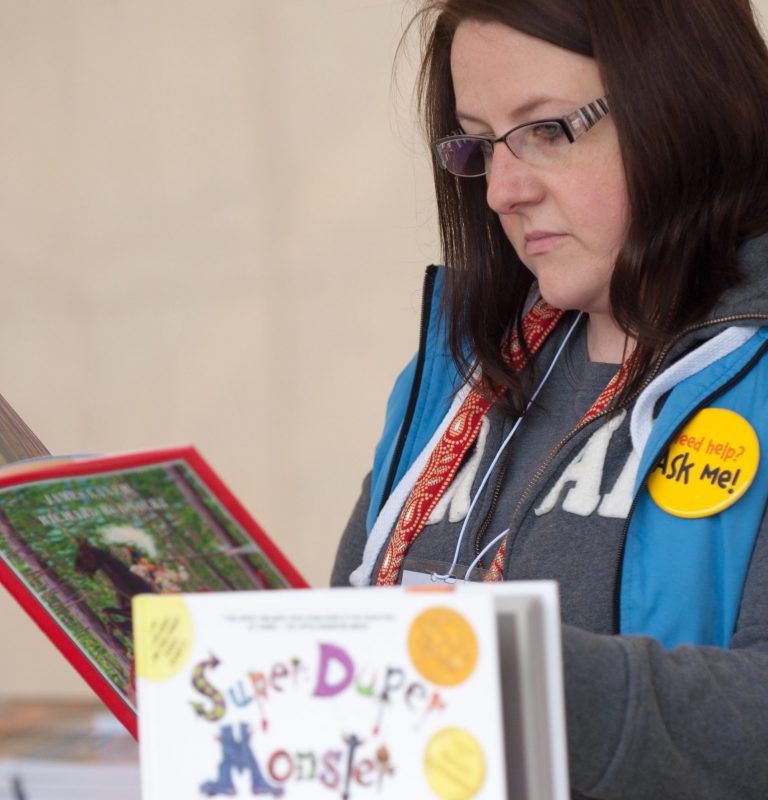 IMPORTANT TIPS
Check the weather and wear layers accordingly. The Festival happens rain or shine and you will be outside a lot. The Harbourfront Centre is also on the lake so it may be cooler.
There is limited storage/security, so make sure you have pockets to carry your valuables on you. There is no secure place to leave personal belongings, so it is suggested not to bring anything that you cannot carry on your person. The Ontario Library Association is not responsible for any lost or stolen items.
There is a coat rack in the Volunteer Headquarters where you can hang a coat/bag, however, although staff are present in the room at all times, they cannot be responsible for tracking or monitoring consistently.
Parking is available at the Harbourfront Centre, but it is not a covered expense.