Forest of Reading Festival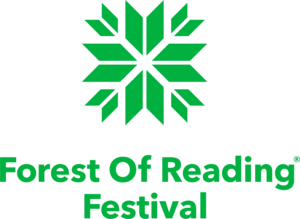 About the Forest of Reading Festival
Do you love to read? Are you ready to make some noise for books? Do you want to meet your favourite authors and illustrators? Have you ever been to a "rock concert" for reading? This is your chance – be part of the largest literary event for young readers in Canada, the Forest of Reading® Festival!
What You Can Do At The Festival?
An in-person Festival event typically involves attendees:
Attending Award Ceremonies for the Forest of Reading®
Getting involved in Author/Illustrator Workshops
Having nominees sign their favourite Forest books!
Taking part in exciting activities and games
Getting excited for roving entertainment and vendors
Winning free prizes and books!
Meeting fellow young readers!
Buying Forest of Reading books and merchandise
Where Is The In-Person Festival?
All Festivals typically take place from 10 a.m. to 2 p.m. In 2022, the Forest of Reading Festival Award Ceremonies will be announced online. The in-person event will return in 2023!
Toronto (English) 

Harbourfront Centre (235 Queens Quay W., Toronto, ON)

Toronto (Français)

Harbourfront Centre (235 Queens Quay W., Toronto, ON)
About The Forest of Reading® Festival
The Forest of Reading Festival is Canada's largest literary event for young readers and is continuing to grow. It typically culminates in a three-day awards celebration for the school-aged and French-language programs of the Forest of Reading in Toronto, with satellite Festivals taking place across Ontario. Over 15,000 people attend the Festival in Toronto, which is co-presented by Toronto International Festival of Authors (TIFA), at the Harbourfront Centre.
In 2012, the OLA began its Festival expansion and now each year satellite locations are put on in additional cities. Satellite Festivals have been held in Thunder Bay, North Bay, Parry Sound, Ottawa, Sault Ste. Marie, Kitchener and London. The first French Festival was also held in 2014 in Toronto. It is the first and only French literary festival of its kind in Canada. On 2019, the award ceremonies were presented virtually for the first time in partnership with CBC Books.
PROUDLY SUPPORTED BY