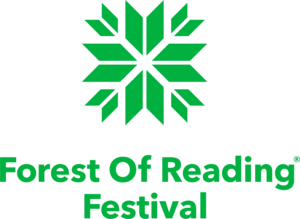 News Release – Forest of Reading Award Winners – May 19th, 2022 (English)
New Release – Forest of Reading Award Winners – May 19th, 2022 (French)
Join CBC Books host, Ali Hassan, for a third year as he hosts all 9 Award Ceremonies.  These ceremonies will be entertaining as we will hear from over 100+ nominees, find out the three finalists in each category and from that esteemed group our 2022 Forest of Reading winners will be announced.  Please join us from all over Canada and see who Canada's young people selected!
*Please note these programs are free and do not require registration.
The links to view these will be posted on our website the day of the ceremony 10 minutes before once we receive from CBC Books.  
A couple of things to point out.
The ceremonies are about 20 minutes in length and will be released at the time listed above (give or a take a few minutes)
Once the winners are announced, we hope that everyone will take to social media and use the hashtag #forestofreading and be sure to tag @forestofreading.  Let's have some good news that trends these days.
Once the ceremonies are released, the videos will be up for future viewings, and we encourage you to share them far and wide.
MAY 17th, 2022 
The links below will take you to CBC Books where the awards will be released at the times listed below and not before.
DAY 1 PRESS RELEASE OF HONOUR BOOK & AWARD WINNERS
MAY 18th, 2022  
DAY 2 PRESS RELEASE OF HONOUR BOOK & AWARD WINNERS
MAY 19th, 2022  
DAY 3 PRESS RELEASE OF HONOUR BOOK & AWARD WINNERS
*Note all release times are Eastern Time
The 2022 Festival & Events are proudly supported by:

Forest of Reading Festival 2022
Virtual Celebrations – for the LAST TIME!
We look forward to being able to gather again in the Spring of 2023 where we can bring authors/illustrators and readers together to celebrate the Forest of Reading program year. However, we'll have to wait a little longer and while we do, we are excited to celebrate with a few new events leading up to the 2022 Forest of Reading Awards ceremonies.
This year's we will have a series of events happening the week of May 10th that are paid programming and then the Award Ceremonies will be happening the week of May 17th.  Below is this year's line-up for the Forest of Reading Festival.  Please note all of these events are open to the anyone and not just Forest registrants so please share with your colleagues.
Events May 10th, 11th, 12th 
3 separate paid events being offered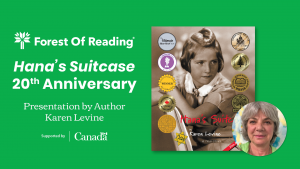 Hana's Suitcase 20th Anniversary  – Presentation by Author Karen Levine
It's been 20 years since Hana's Suitcase won the  Silver Birch Award. Educators and  Library Staff please come and  join award-winning author Karen Levine. 
At a time when anti-Semitism is on the rise in schools, Second Story Press is re-releasing Hana's Suitcase, the extraordinary true story that for twenty years has brought the history of the Holocaust to life for young readers. Author Karen Levine's presentation will take us on the fascinating journey that was sparked by a humble suitcase. Learn about Fumiko Ishioka, the curator of a small Holocaust education centre in Tokyo, who received a suitcase from the Auschwitz Museum marked with the words "Hana Brady, May 16, 1931, Orphan". Fuelled by her student's curiosity, Fumiko began a search through history for the answers to Hana's identity: from present-day Japan, Europe, and North America back to 1938 Czechoslovakia, committed to finding out the truth no matter how difficult. Find out why Hana's story is more important than ever; how it parallels present world events, how it provides inspiration for young people to face up to hate and discrimination, and the powerful friendships it created.
AUDIENCE: Adult Library Staff & Educators in Schools and Libraries
COST: $10/person plus HST
DATE: May 10th, 2022 – 4:00-4:45pm (ET) – LIVE SESSION
CAPACITY: 100 for this session

THE FABULOUS SYLVESTER'S! A LIVE presentation by Kevin & Basil Sylvester
Authors of the Fabulous Zed Watson, Kevin & Basil Sylvester talk about their cool relationship, gender identity, the importance of their Silver Birch book and what is on the horizon for this family of writers.  Plus, they'll talk about how making your drawings seem as active as Zed's imagination! Always entertaining and a good time when visited by these two!
DATE: May 11th, 2022 – 12:00-12:45pm (ET) – LIVE SESSION
AUDIENCE: School-aged kids from Grade 4-12
COST: $20/class or group (one connection)
CAPACITY: 100 for this session
A Celebration of Sport – Presentation by Olympian & Author Andre De Grasse and Co-Author Lucky Budd
Join Olympic medalist and author Andre De Grasse and incredibly talented co-author Lucky Budd as they talk about their nominated book, Race With Me! Our amazing grade 7 interviewer, Ainara Alleyne, from Hamilton, will keep things super fun and also take your questions. You don't want to miss this.
DATE: May 12th, 2022 – 2:00-2:45pm (ET)  – LIVE SESSION
AUDIENCE: School-aged kids from grade 4-8
COST: $20/class or group  (one connection)
CAPACITY: 100 for this session
REGISTRATION INSTRUCTIONS
For Forest of Reading Registrants:
Login to the Forest of Reading password site, and click events
Choose the event you'd like to register for;
On the Registration area of the event, you will be able to confirm your information and register via the Register Now button;
Clicking register will take you to the payment page where you can pay.
For everyone else (BUT, we hope you will register in Fall 2022!). 

About the IN-PERSON Forest of Reading Festival (will return in May 2023)
Do you love to read? Are you ready to make some noise for books? Do you want to meet your favourite authors and illustrators? Have you ever been to a "rock concert" for reading? This is your chance – be part of the largest literary event for young readers in Canada, the Forest of Reading® Festival!
What You Can Do At The Festival?
An in-person Festival event typically involves attendees:
Attending Award Ceremonies for the Forest of Reading®
Getting involved in Author/Illustrator Workshops
Having nominees sign their favourite Forest books!
Taking part in exciting activities and games
Getting excited for roving entertainment and vendors
Winning free prizes and books!
Meeting fellow young readers!
Buying Forest of Reading books and merchandise
All in-person Festivals typically take place from 10 a.m. to 2 p.m.
About The Forest of Reading® Festival
The Forest of Reading Festival is Canada's largest literary event for young readers and is continuing to grow. It typically culminates in a three-day awards celebration for the school-aged and French-language programs of the Forest of Reading in Toronto, with satellite Festivals taking place across Ontario. Over 15,000 people attend the Festival in Toronto, which is co-presented by Toronto International Festival of Authors (TIFA), at the Harbourfront Centre.
In 2012, the OLA began its Festival expansion and now each year satellite locations are put on in additional cities. Satellite Festivals have been held in Thunder Bay, North Bay, Parry Sound, Ottawa, Sault Ste. Marie, Kitchener and London. The first French Festival was also held in 2014 in Toronto. It is the first and only French literary festival of its kind in Canada. On 2019, the award ceremonies were presented virtually for the first time in partnership with CBC Books.