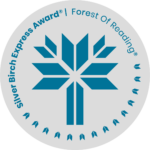 2022 Silver Birch Express Award® Nominees
Grades 3-4, fiction, non-fiction
Written and Illustrated by Sarah Leach and Rebecca Bender
Published by Pajama Press Inc.
Lauren, a third-grade student who has Autism Spectrum Disorder, takes on the challenges of
sharing her best friend and persevering when a classmate mocks her bicycle's training wheels.
Irma is Lauren's best friend. Irma knows all the strategies Lauren uses when her Autism Spectrum
Disorder makes it hard to "go with the flow." Lauren helps Irma learn English words and understand
unfamiliar customs. So why does Irma suddenly want to introduce Lauren to her mountain-biking,
litter-dropping neighbour Jonas? Why is Irma calling Jonas her friend?
As if sharing Irma weren't bad enough, Lauren also has an alarming new problem at school. Their
teacher has announced a mountain biking day when the students will learn to ride their bikes on an
obstacle course. But Lauren still uses training wheels. She just can't face the teasing she will get
when her classmates see them. She isn't brave like Irma. She can't go with the flow like Dad. How
can she possibly face this challenge?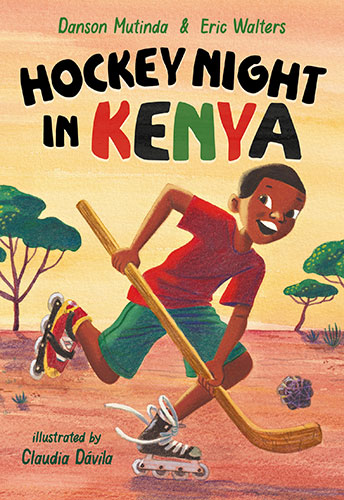 Written and Illustrated by Danson Mutinda, Eric Walters, Claudia Dávila
Published by Orca Book Publishers
Kenyan orphans, Kitoo and Nigosi, spend their days studying, playing soccer, helping their elders
with chores around the orphanage and reading from the limited selection of books in their library.
When the librarian gives Kitoo a copy of Sports Around the World he becomes fascinated by an
image of the Canadian national men's ice hockey team. Then one day the fates align and Kitoo finds a pair of beat-up old rollerblades, he teaches himself to skate and dreams of one day playing hockey like the men in his book. But you can't play ice hockey in Kenya, can you?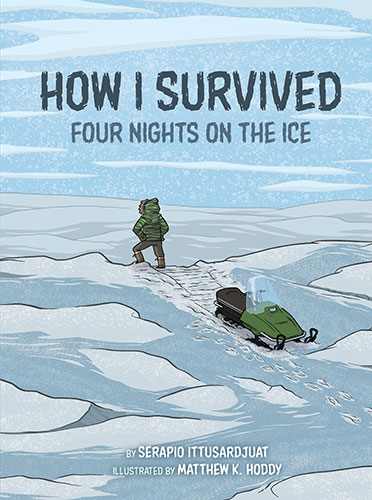 How I Survived: Four Nights on the Ice
Written and Illustrated by Serapio Ittusardjuat and Matthew K. Hoddy
Published by Inhabit Media
After his snowmobile breaks down halfway across the sea ice on a trip back from a fishing
camp, Serapio Ittusardjuat recounts the traditional skills and knowledge he leaned on to stay
alive. This harrowing first-person account of four nights spent on the open sea ice—with few
supplies and no water—shows young readers the determination and strength necessary to
survive in the harsh Arctic climate, even when the worst occurs.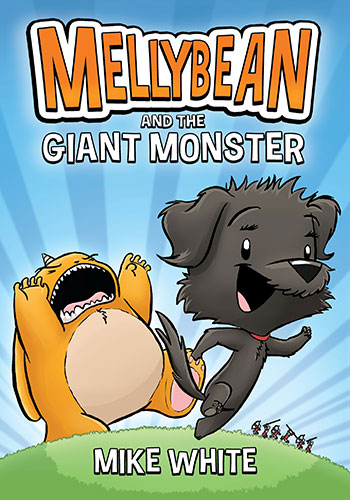 Mellybean and the Giant Monster
Written by Mike White

Published by Razorbill
Melly loves to play games. All her feline friends want to do, though, is take a nap. So when she
doesn't leave them alone, the cats trick her into burying a shoe in the backyard. But the small
prank turns into a big problem when Melly falls down the hole and it magically transports her to
another world!
Melly lands smack-dab in the middle of a scuffle between a group of knights and a huge
monster. But Melly soon befriends the grumpy giant, learning he isn't as scary as he seems.
He's being hunted by a greedy king. One who has also been stealing from his people and
locking them up in the dungeons. So although Melly is desperate to find a way back home to
Mama and Papa (her human owners), she makes it her mission to help her new friend and the
kingdom. But how could someone so tiny defeat such a powerful king? It may just take a game
that only Melly can win.'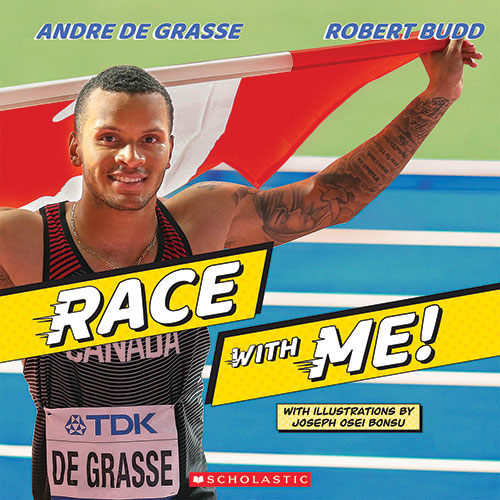 Written and Illustrated by Andre De Grasse, Robert Budd, and Joseph Osei Bonsu
Published by Scholastic Canada Ltd.
A celebration of sport — and Andre De Grasse's positive, winning attitude.
Everyone gets nervous butterflies. I don't let that feeling stop me.
I love the feeling of being proud of myself. I can only feel it by trying my best.
My butterflies just mean I am excited to run.
Lace up your shoes and get ready for race day with Canada's 2019 Athlete of the Year, Andre
De Grasse!
Find out what it was like for him as an underdog, and how he motivates himself to face every
challenge, in this inspiring celebration of sport.
Filled with full-colour photos and illustrations, this book covers themes of reflection, mindfulness
and gratitude sure to motivate all kinds of readers.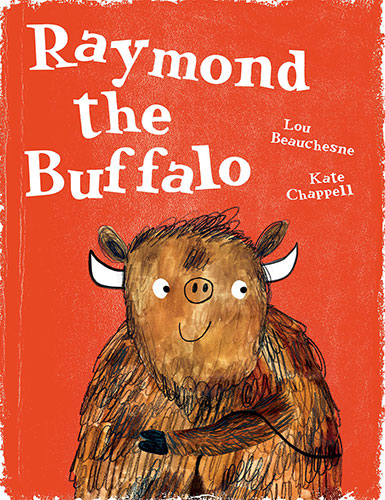 Written and Illustrated by Lou Beauchesne and Kate Chappell
Translated by Susan Ouriou and Christelle Morelli
Published by Orca Book Publishers
Raymond is a brave, strong and hairy buffalo. Gilbert is a quiet, growing and not-at-all hairy boy. Raymond is the hero of Gilbert's favourite book, and Gilbert brings his favourite book everywhere. When an unfortunate incident separates the two, Raymond finds himself in a very unusual situation―outside of his book and loose in the local library! There's nothing for Raymond to do but wait for Gilbert to come find him. But as the days turn into months and months into years, Raymond has to be brave and make a new home in the library shelves and a new friend in the librarian, Nicole.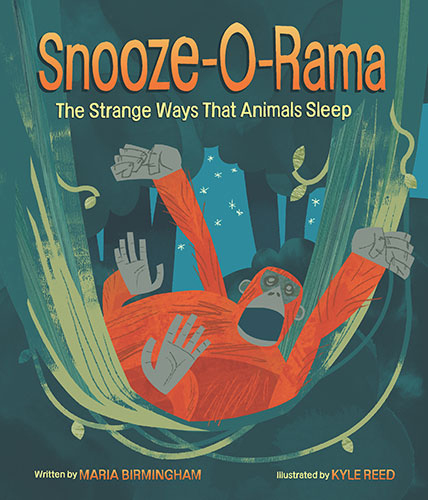 Snooze-O-Rama: The Strange Ways That Animals Sleep
Written and Illustrated by Maria Birmingham and Kyle Reed
Published by Owlkids Books
Discover the strange – and sometimes familiar – ways animals settle down for bed.
While you brush your teeth and turn out the light, animals all over the world are getting ready for
bed in their own unique ways. Otters snuggle under seaweed blankets, plump walruses use
their throat pouches as pillows, and just like putting on pajamas, parrotfish cover themselves
with a coat of slime before bed.
Drawing on scientific research, this nonfiction book for young readers playfully compares the
ways humans and animals prepare for a good night's sleep. On one page, a child dozes during
a car ride or cuddles up to their parents in bed. Flip the page, and readers will delight in discovering how other creatures catch some z's.
Vibrant collage illustrations bring color and humor to the fascinating facts about animals both
familiar and unusual. With lively descriptions of each animal's bedtime routine, Snooze-O-Rama
is a playful introduction to STEM—and an invitation to sleep!
That's No Dino!: Or Is It? What Makes a Dinosaur a Dinosaur
Written and Illustrated by Helaine Becker and Marie-Ѐve Tremblay
Published by Kids Can Press
Dino-loving kids will learn what a dinosaur is by discovering what it's not, in this fun and innovative introduction to some other prehistoric creatures. Everyone knows what a dinosaur is, right? Well, maybe not. Roaming the earth alongside dinosaurs, there were other less well- known animal species — but they were not dinosaurs. So, what is it that sets the dinosaurs apart? Here, readers are introduced to ten prehistoric animals that look like dinosaurs, but they're missing at least one key characteristic that all true dinosaurs have. One by one, each of those "missing" characteristics is added to a growing list, so that, by the end of the book, readers will know what makes a dinosaur a dinosaur! Bestselling and award-winning author Helaine Becker uses an innovative approach to expand the world of dinosaurs for young readers. Each funny, fact-packed spread presents one prehistoric creature, with a large illustration and information about its habitat, behavior and characteristics, including which characteristic makes it not a dinosaur. Cumulative checklists of these characteristics help readers build a definition of what a dinosaur is, making complex paleontology concepts accessible. An example of a true dinosaur at the end ties it all together. All content has been well-researched and thoroughly vetted by museum and university paleontologists. Marie-Ève Tremblay's quirky, colorful illustrations include several clarifying side diagrams to support understanding. The backmatter contains more about true dinosaurs as well as a glossary, index and sources for further reading. With many curriculum links in life science, this book is particularly useful for lessons on the classification of living things.'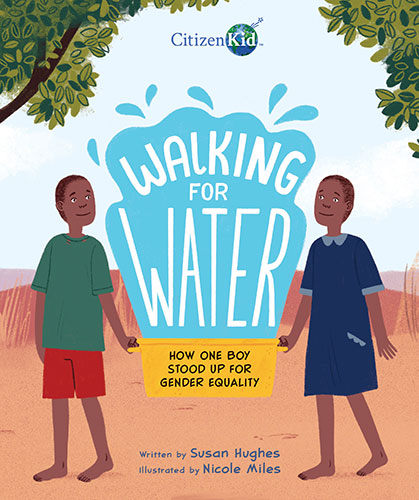 Walking for Water: How One Boy Stood Up For Gender Equality
Written and Illustrated by Susan Hughes and Nicole Miles
Published by Kids Can Press
In this inspiring story of individual activism, a boy recognizes gender inequality when his sister
must stop attending school — and decides to do something about it. Victor is very close to his
twin sister, Linesi. But now that they have turned eight years old, she no longer goes to school
with him. Instead, Linesi, like the other older girls in their community, walks to the river to get
water five times a day, to give their mother more time for farming. Victor knows this is the way it
has always been. But he has begun learning about equality at school, and his teacher has
asked the class to consider whether boys and girls are treated equally. Though he never
thought about it before, Victor realizes they're not. And it's not fair to his sister. So Victor comes up with a plan to help. Based on a true story of a Malawian boy, award-winning author Susan Hughes's inspiring book celebrates how one person can make a big difference in the lives of others. It's a perfect starting point for children to explore themes of gender inequality and unequal access to education, as well as the lack of clean water in some parts of the world. Nicole Miles's appealing artwork in this graphic novel / picture book hybrid format adds emotional context to the story. Also included are information about education and water availability in Malawi, resources and a glossary of Chichewa words. Part of the CitizenKid collection and featuring a growth mindset, this important book has links to social studies lessons on global communities and cultures, as well as to character education lessons on initiative, fairness and adaptability.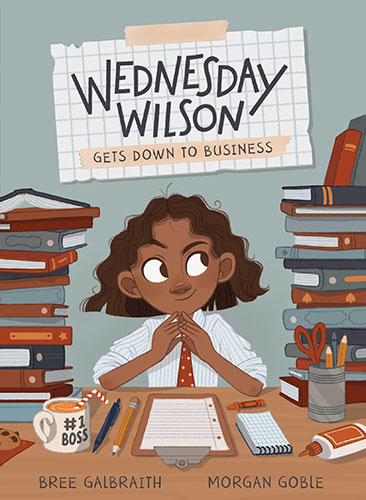 Wednesday Wilson Gets Down to Business
Written and Illustrated by Bree Galbraith and Morgan Goble
Published by Kids Can Press
The most important thing to know about Wednesday Wilson is that she's an entrepreneur. She hasn't started any businesses yet, but she's pretty sure today is the day. She and her best friend, Charlie (Wednesday's future Vice President of Operations), with some help from her little brother, Mister, have made a list of potential businesses. But before they get to move forward on one, there's an unfortunate incident in class with the Emmas (whose last initials happen to spell M.E.A.N.) involving a bearded dragon named Morten and a piece of kale . . . it's a long story. It figures that Wednesday's archnemeses would be the ones to mess up her plans! But maybe all is not lost. Maybe this is just the opportunity Wednesday and her friends needed to come up with a brilliant business idea that will save the day and make them millionaires. Or . . . not?