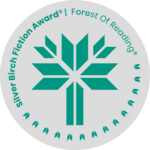 2022 Silver Birch Fiction Award® Nominees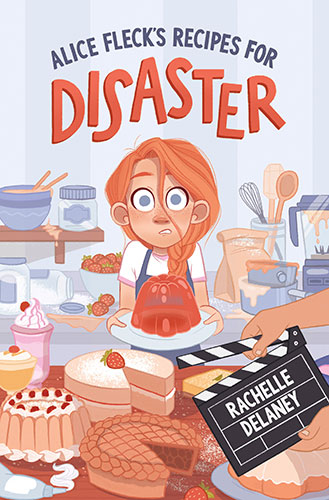 Alice Fleck's Recipes for Disaster
Written by Rachelle Delaney

Published by Puffin Canada
When Alice agreed to appear in a reality cooking show with her father, she had no idea she'd
find herself in the middle of a mystery! Will Alice and her new friends be able to save the show?
A light-hearted and funny middle grade novel for fans of Rebecca Stead and Linda Mulally Hunt.
Alice Fleck's father is a culinary historian, and for as long as she can remember, she's been
helping him recreate meals from the past—a hobby she prefers to keep secret from kids her
age. But when her father's new girlfriend enters them into a cooking competition at a Victorian
festival, Alice finds herself and her hobby thrust into the spotlight.
And that's just the first of many surprises awaiting her. On arriving at the festival, Alice learns
that she and her father are actually contestants on Culinary Combat, a new reality TV show
hosted by Tom Truffleman, the most famous and fierce judge on TV! And to make matters
worse, she begins to suspect that someone is at work behind the scenes, sabotaging the
competition.
It's up to Alice, with the help of a few new friends, to find the saboteur before the entire
competition is ruined, all the while tackling some of the hardest cooking challenges of her
life…for the whole world to see.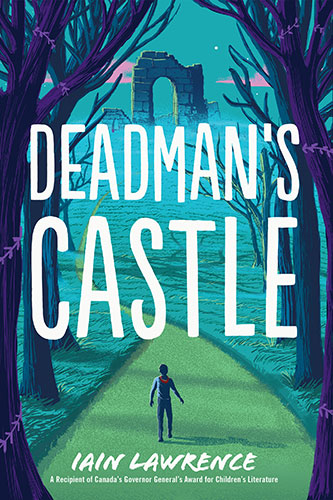 Written by Iain Lawrence

Published by Holiday House
For most of his life, Igor and his family have been on the run. Danger lurks around every corner-
-or so he's always been told. . . .
When Igor was five, his father witnessed a terrible crime–and ever since, his whole family has
been hunted by a foreboding figure bent on revenge, known only as the Lizard Man. They've
lived in so many places, with so many identities, that Igor can't even remember his real name.
But now he's twelve years old, and he longs for a normal life. He wants to go to school. Make
friends. Stop worrying about how long it will be before his father hears someone prowling
around their new house and uproots everything yet again. He's even starting to wonder–what if
the Lizard Man only exists in his father's frightened mind?
Slowly, Igor starts bending the rules he's lived by all his life–making friends for the first time,
testing the boundaries of where he's allowed to go in town. But soon, he begins noticing strange
things around them–is it in his imagination? Or could the Lizard Man be real after all?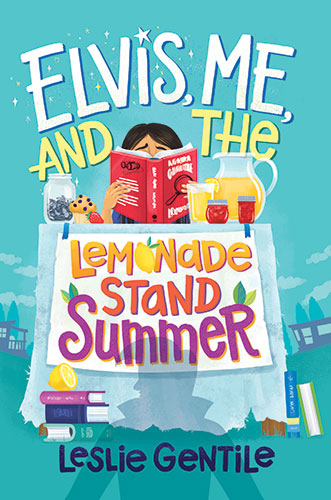 Elvis, Me, and the Lemonade Stand Summer
Written by Leslie Gentile
Published by Cormorant Books
It's the summer of 1978 and most people think Elvis Presley has been dead for a year. But not
eleven-year-old Truly Bateman – because she knows Elvis is alive and well and living in the
Eagle Shores Trailer Park. Maybe no one ever thought to look for him on an Indigenous reserve
on Vancouver Island.
It's a busy summer for Truly. Though her mother is less of a mother than she ought to be and
spends her time drinking and smoking and working her way through new boyfriends, Truly is
determined to raise as much money for herself as she can through her lemonade stand … and
to prove that her cool new neighbour is the one and only King of Rock 'n' Roll. And when she
can't find motherly support in her own home, she finds sanctuary with Andy El, the Salish
woman who runs the trailer park.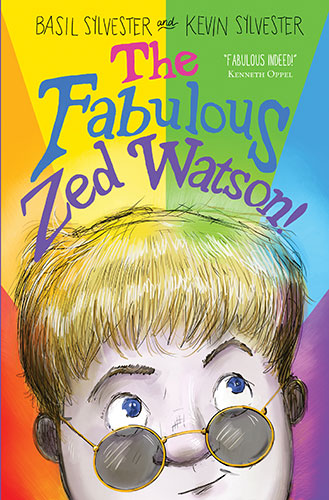 Written and Illustrated by Basil and Kevin Sylvester

Published by HarperCollins
Zed Watson loves a few things: their name (which they chose themself!), their big rambunctious
family, and—oh yeah—monsters. When Zed discovered the mystery surrounding an
unpublished novel called The Monster's Castle, they were completely hooked. Now Zed is a
member of a small but dedicated legion devoted to finding the long-buried text.
When a breakthrough discovery leads Zed to the route that they are sure will take them to the
treasure, they know it's time for a road trip. And with the help of their shy, flora-loving neighbour,
Gabe, and his sister, Sam, a geologist who is driving back to college in Arizona, Zed and
company are soon off on a wild adventure following cryptic clues.
But it's not all fun and games. Gabe doesn't like Zed's snacks, Sam is a bossy driver with total
command of the ancient Impreza's stereo, and Zed is often misgendered. It's a good thing they
also encounter kind strangers, potato-themed dance-offs and lots and lots of ice cream along
the way. If Zed and Gabe can combine their strengths, survive Sam's wrath and best the greedy
historian who's also hot on the book's trail, they just might find the greatest treasure of all.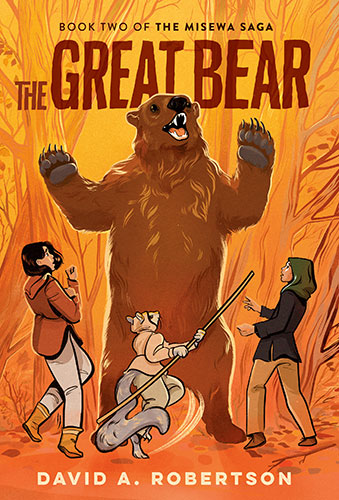 Written by David A. Robertson
Published by Puffin Canada
Back at home after their first adventure in the Barren Grounds, Eli and Morgan each struggle
with personal issues: Eli is being bullied at school, and tries to hide it from Morgan, while
Morgan has to make an important decision about her birth mother. They turn to the place where
they know they can learn the most, and make the journey to Misewa to visit their animal friends.
This time they travel back in time and meet a young fisher that might just be their lost friend. But
they discover that the village is once again in peril, and they must dig deep within themselves to
find the strength to protect their beloved friends. Can they carry this strength back home to face
their own challenges?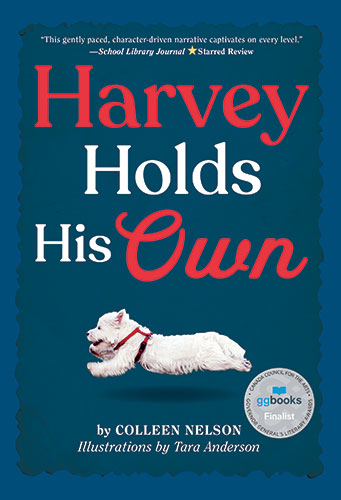 Written and Illustrated by Colleen Nelson and Tara Anderson
Published by Pajama Press Inc.
Harvey the West Highland Terrier is back with his beloved Maggie. He is also back at Brayside
retirement home, where he and Maggie now volunteer along with their friend Austin. There
Maggie is drawn to a new resident, Mrs. Fradette, who tells stories of learning to fix cars as a
twelve-year-old during the flood of 1950. Mrs. Fradette, with her bold fashion and love of poker, doesn't fit in among the beige-cardigan-wearing, bridge-playing ladies of Brayside, but she doesn't seem to care. Maybe that's why Maggie likes her so much. Since seventh grade began, Maggie hasn't been fitting in well with her friends, either.
Harvey has a problem of his own. He can smell an intruder in his yard, and he needs to find it.
He is so intent on the nighttime fiend that he almost doesn't notice how worried Austin is about his grandfather, who has been Brayside's custodian for longer than Harvey has been alive. It seems like the retirement home is planning to give the job to a younger man, an injustice that Austin can't let pass unchallenged.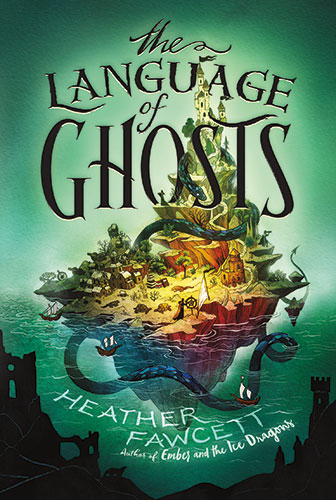 Written by Heather Fawcett
Published by HarperCollins.
Forced into exile on an enchanted, moving island, ex-princess Noa Marchena has two missions: reclaim her family's stolen throne and ensure that the dark powers her older brother, Julian, possesses don't go to his head in the process. But between babysitting her annoying little sister, Mite, and keeping an eye on the cake-loving sea monster that guards the moving island, Noa has her hands full.
When the siblings learn that their enemies are searching for a weapon capable of defeating
Julian—whose legendary spell weaving is feared throughout the kingdom—once and for all,
they vow to get to it first. To everyone's surprise, the key to victory turns out to be a long-lost
magical language—and only Noa can speak it.
But what if by helping her brother, Noa ends up losing him?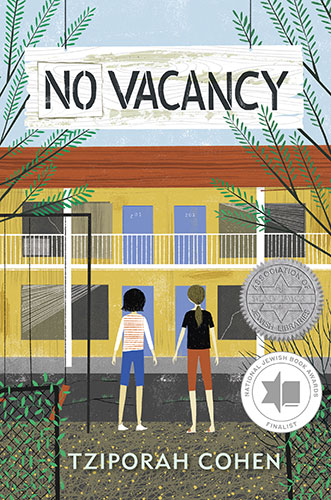 Written by Tziporah Cohen
Published by Groundwood Books Ltd
With the help of her Catholic friend, an eleven-year-old Jewish girl creates a provocative local
tourist attraction to save her family's failing motel.
Buying and moving into the run-down Jewel Motor Inn in upstate New York wasn't eleven-year-
old Miriam Brockman's dream, but at least it's an adventure. Miriam befriends Kate, whose
grandmother owns the diner next door, and finds comfort in the company of Maria, the motel's
housekeeper, and her Uncle Mordy, who comes to help out for the summer. She spends her
free time helping Kate's grandmother make her famous grape pies and begins to face her fears
by taking swimming lessons in the motel's pool.
But when it becomes clear that only a miracle is going to save the Jewel from bankruptcy,
Jewish Miriam and Catholic Kate decide to create their own. Otherwise, the No Vacancy sign
will come down for good, and Miriam will lose the life she's worked so hard to build.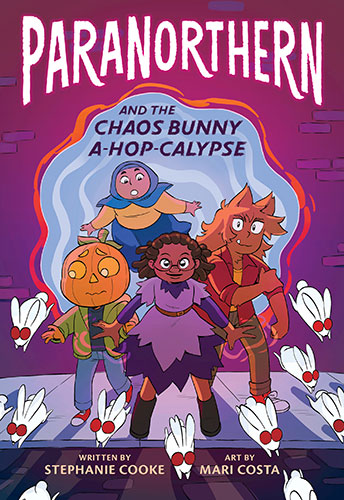 ParaNorthern: And the Chaos Bunny A-hop-calypse
Written and Illustrated by Stephanie Cooke and Mari Costa
Published by Etch/Clarion Books
It's fall break in the supernatural town of North Haven, and young witch Abby's plans include
pitching in at her mom's magical coffee shop, practicing her potion-making, and playing board
games with her best friends—a pumpkinhead, a wolf-girl, and a ghost. But when Abby finds her
younger sister being picked on by some speed demons, she lets out a burst of magic so strong,
it opens a portal to a realm of chaos bunnies. And while these bunnies may look cute, they're
about to bring the a-hop-ocalypse (and get Abby in a cauldronful of trouble) unless she figures
out a way to reverse the powerful magic she unwittingly released. What's a witch to do?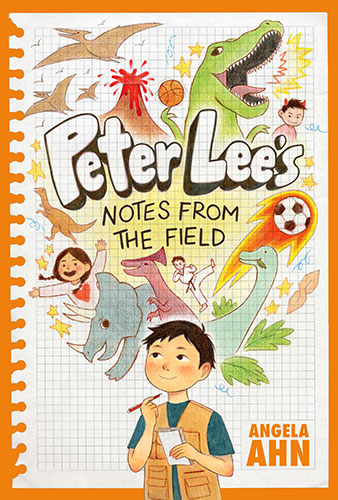 Peter Lee's Notes from the Field
Written and Illustrated by Angela Ahn and Julie Kwon
Published by Tundra Books
Eleven-year-old Peter Lee has one goal in life: to become a paleontologist. Okay, maybe two: to
get his genius kid-sister, L.B., to leave him alone. But his summer falls apart when his real-life
dinosaur expedition turns out to be a bust, and he watches his dreams go up in a cloud of
asthma-inducing dust.

Even worse, his grandmother, Hammy, is sick, and no one will talk to Peter or L.B. about
it. Perhaps his days as a scientist aren't quite behind him yet. Armed with notebooks and pens, Peter puts his observation and experimental skills to the test to see what he can do for Hammy.
If only he can get his sister to be quiet for once — he needs time to sketch out a plan.