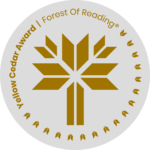 2022 Yellow Cedar Award Nominees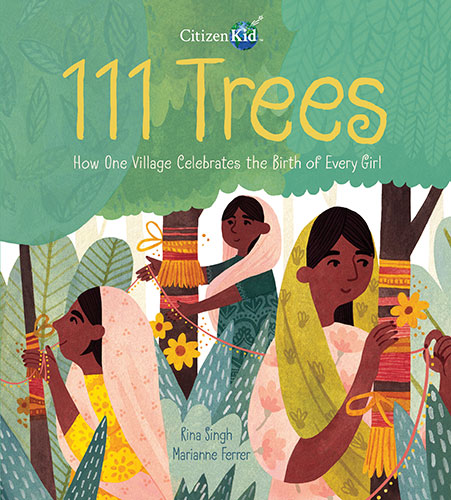 111 Trees: How One Village Celebrates the Birth of Every Girl
Written and Illustrated by Rina Singh and Marianne Ferrer
Published by Kids Can Press
In a small village in India, a boy grows up to make a huge difference in his community by planting trees to celebrate the birth of every girl. Based on a true story, this book celebrates environmental sustainability, community activism and ecofeminism. This is the story of Sundar Paliwal, who is from a small Indian village ruled by ancient customs. As he grows to be a man, Sundar suffers much heartbreak and decides it is time for change to come to his village. Sundar is determined to live in a place where girls are valued as much as boys and where the land is not devastated by irresponsible mining. Sundar's plan? To celebrate the birth of every girl with the planting of 111 trees. Though many villagers resist at first, Sundar slowly gains their support. And today, there are over a quarter of a million trees in his village, providing food, water and opportunities for women to earn a living. His efforts have turned a once barren and deforested landscape into a fertile and prosperous one where girls can thrive. Based on true events in the life of Sundar Paliwal, and written in collaboration with him, Rina Singh's uplifting story shows how one person can make a difference in a community. Beautiful illustrations by Marianne Ferrer sensitively bring the evolution of the village to life. With strong links to the science curriculum, this book offers lessons on environmental awareness, sustainability and stewardship, as well as the concept of ecofeminism. It also explores ideas of social development, community and culture, and the character education traits of responsibility and cooperation. A thoroughly researched author's note with photographs and more information about the village of Piplantri is included.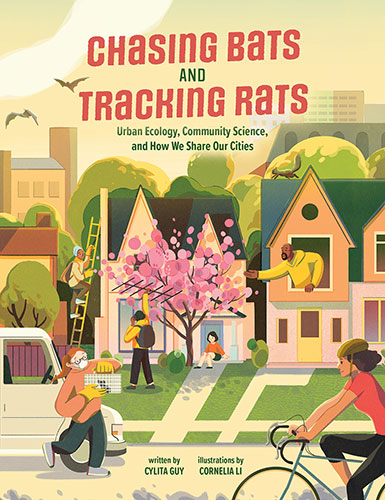 Chasing Bats and Tracking Rats: Urban Ecology, Community Science, and How We Share Our Cities
Written and Illustrated by Cylita Guy and Cornelia Li
Published by Annick Press
What can city bees tell us about climate change? How are we changing coyote behavior? And what the heck is a science bike? Featuring the work of a diverse group of eleven scientists—herself included!—Dr. Cylita Guy shows how studying urban wildlife can help us make cities around the world healthier for all of their inhabitants. In the process, Guy reveals how social injustices like racism can affect not only how scientists study city wildlife, but also where urban critters are likelier to thrive. Sidebars include intriguing animal facts and the often-wacky tools used by urban ecologists, from a ratmobile to a bug vacuum. Cornelia Li's engaging illustrations bring the scientists' fieldwork adventures to life, while urban ecology challenges encourage readers to look for signs of wildlife in their own neighborhoods.
Finding Home: The Journey of Immigrants and Refugees
Written and Illustrated by Jen Sookfong Lee and Drew Shannon
Published by Orca Book Publishers
From war zones to politics, there are many reasons why people have always searched for a place to call home. In Finding Home: The Journey of Immigrants and Refugees we discover how human migration has shaped our world. We explore its origins and the current issues facing immigrants and refugees today, and we hear the first-hand stories of people who have moved across the globe looking for safety, security and happiness. Author Jen Sookfong Lee shares her personal experience of growing up as the child of immigrants and gives a human face to the realities of being an immigrant or refugee today.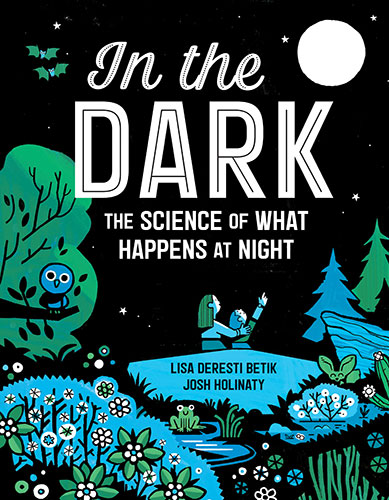 In the Dark: The Science of What Happens at Night
Written and Illustrated by Lisa Deresti Betik and Josh Holinaty
Published by Kids Can Press
Ever wonder what happens when you go to sleep at night? Discover all that's still going on in the world after dark, in this intriguing, fact-packed introduction to the science of night. What happens when we go to sleep at night? Now young readers can find out, in this entertaining exploration of the science of night. Nocturnal animals are hunting for food. Plants are using math (!) to conserve their overnight energy. Celestial objects only visible after dark are shining brightly in the night sky. Even our own bodies and brains are still working to keep us healthy! Amazing as it is, the world doesn't stop just because we've closed our eyes. Lisa Deresti Betik has created a fun, engaging and fact-packed introduction to the science of what happens in the world after dark. Children will be delighted to find the answers to questions such as: Why do we dream? How do bats use echolocation? What blooms in the moonlight? Why do stars twinkle? Thoroughly researched and vetted by several experts, this book covers multiple STEM topics, leading to tons of direct curriculum links in earth science, life science and physical science. The comprehensive, wide-ranging approach allows for loads of fun facts that will appeal to children. Josh Holinaty's stylish illustrations create a striking nighttime look with a limited, dark color palette. The text is supported by a glossary, an index and suggested sources for further reading.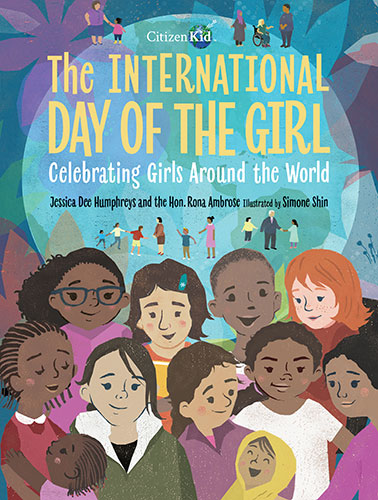 The International Day of the Girl: Celebrating Girls Around the World
Written and Illustrated by Jessica Dee Humphreys, Rona Ambrose, and Simone Shin
Published by Kids Can Press
This introduction to the International Day of the Girl and its worldwide significance encourages children to recognize their own potential to make change, providing both a perfect lesson in social justice and a celebration of girl power. The United Nations designated October 11th as the International Day of the Girl, a day to increase awareness of problems that affect girls — and only girls — around the world and to encourage progress toward gender equality. Nine stories inspired by the real-life experiences of girls from all over the globe bring to light the importance of this day. Each story is set in a different country and sensitively describes an inequity faced by a character and how she addressed it. The challenges include gender-based violence, illiteracy, lack of access to technology, sanitation, nutritional disparity and child marriage. Each story features a positive description of the main character — strong, smart, creative, inventive, brave, talented, caring, funny, ambitious — and each concludes with a realistic yet hopeful outcome, presenting the girls as more than victims of their circumstances. Their powerful, and empowering, experiences will stir the activist in every child. Jessica Dee Humphreys's well-researched and illuminating stories are both readable and age appropriate. Award-winning Simone Shin's simple, warm illustrations bring the characters and their circumstances to life. Sidebars expand on the issues covered in each story. This book is a perfect choice for social justice discussions, as well as for social studies lessons on global communities, and for character education conversations on citizenship. It includes a foreword by the Honorable Rona Ambrose, who led Canada's call for the day to be formally adopted by the United Nations. Also included are an annotated timeline of the day's creation and additional statistical information. A portion of the proceeds will go to Plan International Canada.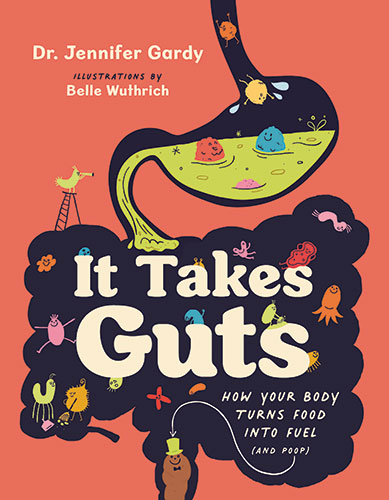 It Takes Guts: How Your Body Turns Food Into Fuel (And Poop)
Written and Illustrated by Dr. Jennifer Gardy and Belle Wuthrich
Published by Greystone Kids
An illustrated book about the digestive system and microbiome for young readers, from famous (and funny) scientist Dr. Jennifer Gardy.
Everybody eats, and everybody poops. Pretty ordinary stuff, right?
But what happens in between is far from ordinary! That's where your digestive system—also known as your gut—works its magic.
It Takes Guts is an excellent, science-based resource for classroom learning and home-schooling for kids age 9 to 13, with information about:
The surprising role that food and digestion play in your mood and immune system.

The amazing tools your body uses to break down food including acids, which do their thing without burning a hole in your stomach!

The incredible truth that not all bacteria is bad! Billions of "helpful bacteria" belong in your gut.

And so much more.
Dr. Jennifer Gardy also takes stomach-turning detours to investigate the science behind burps, barfs, and farts, proving that learning about the wonderful world of your gut—takes guts!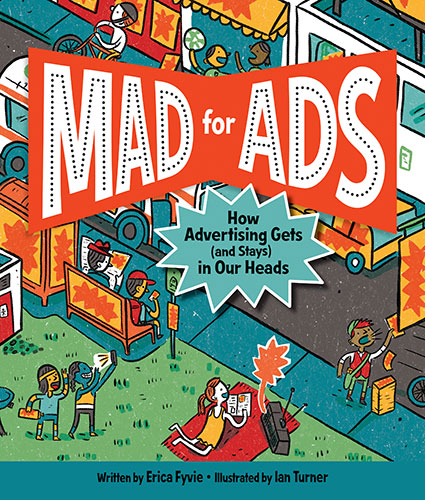 Mad for Ads: How Advertising Gets (And Stays) in Our Heads
Written and Illustrated by Erica Fyvie and Ian Turner
Published by Kids Can Press
This amusing and engaging behind-the-scenes look at advertising and its influence will help kids decode the ads that surround them every day and make smart decisions. For children growing up in an advertising-saturated world, here's an eye-opening explanation of what advertising is, how it works and why that matters. The book covers the components of an advertising campaign, from slogans to logos, and the many ways marketers seek to influence behavior, from tapping into fears to using psychological pricing. It then brings these techniques and tools to life by taking readers through the creation of two fictional advertising plans. Along the way, there's information about the strategies that advertisers use to influence their audience, as well as valuable background on how digital technology allows companies to track people and what that means for privacy. It's a savvy look at the business of advertising that teaches children to pay better attention to ads and be more discerning about the messages they find.
Award-winning author Erica Fyvie has geared this vital, comprehensive and entertaining look at advertising to children who are just beginning to notice and to be swayed by brands. By building media literacy and promoting critical thinking about all kinds of marketing tools — from in-game ads to social media "kid influencers" — the book empowers readers to analyze and respond to what they see every day. Relevant, child-friendly language and examples, along with bold and humorous illustrations by Ian Turner, keep the pages lively and interesting. There are direct curriculum links to language arts, visual arts, technology and social studies lessons. Also included are a glossary, index and selected bibliography.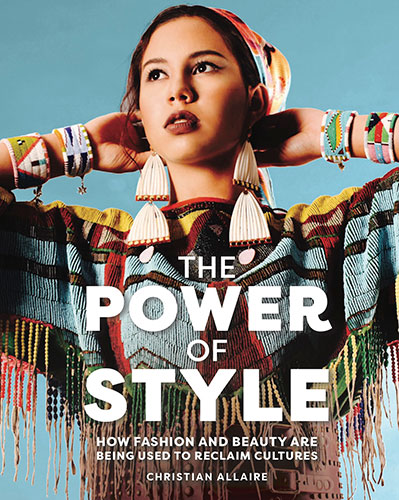 The Power of Style: How Fashion and Beauty Are Being Used to Reclaim Cultures
Written by Christian Allaire
Published by Annick Press
Style is not just the clothes on our backs—it is self-expression, representation, and transformation.
As a fashion-obsessed Ojibwe teen, Christian Allaire rarely saw anyone that looked like him in the magazines or movies he sought out for inspiration. Now the Fashion and Style Writer for Vogue, he is working to change that—because clothes are never just clothes. Men's heels are a statement of pride in the face of LGTBQ+ discrimination, while ribbon shirts honor Indigenous ancestors and keep culture alive. Allaire takes the reader through boldly designed chapters to discuss additional topics like cosplay, make up, hijabs, and hair, probing the connections between fashion and history, culture, politics, and social justice.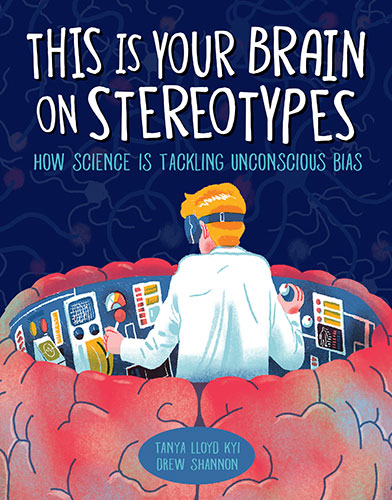 This Is Your Brain on Stereotypes: How Science is Tackling Unconscious Bias
Written and Illustrated by Tanya Lloyd Kyi and Drew Shannon
Published by Kids Can Press
An essential overview of the science behind stereotypes: from why our brains form them to how recognizing them can help us be less biased. From the time we're babies, our brains constantly sort and label the world around us — a skill that's crucial for our survival. But, as adolescents are all too aware, there's a tremendous downside: when we do this to groups of people it can cause great harm. Here's a comprehensive introduction to the science behind stereotypes that will help young people make sense of why we classify people, and how we can change our thinking. It covers the history of identifying stereotypes, secret biases in our brains, and how stereotypes affect our sense of self. Most importantly, it covers current research into how science can help us overcome our biases, offering hope for a future where stereotypes are less prevalent and the world is more fair for everyone. Written by award-winning author Tanya Lloyd Kyi, this timely and hopeful book addresses the issues of discrimination, racism, sexism, ableism and homophobia and offers concrete suggestions on how to make change. It uses scientific inquiry and loads of relatable and interesting examples to explore these uncomfortable topics in age-appropriate and engaging ways. Chapters, sidebars and colorful illustrations break the text into manageable chunks. Besides the many ways this book could be used to inspire frank and in-depth discussions on the importance of addressing stereotypes and bias, it also links to many science and social studies curriculum topics. Backmatter includes an extensive list of sources, suggestions for further reading and an index.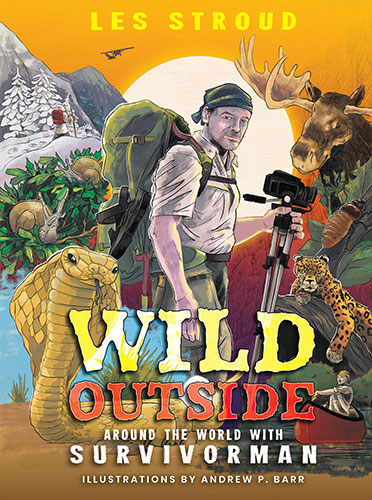 Wild Outside: Around the World with Survivorman
Written and Illustrated by Les Stroud and Andrew P. Barr; Photographs by Laura Bombier
Published by Annick Press
Join TV's Survivorman on twelve edge-of-your-seat adventures as he proves anyone can be an outdoor explorer.
From surviving a frigid night in northern Canada to munching on grubs in the Australian Outback, Les Stroud's passion for the outdoors has driven him to some of the planet's most remote and beautiful locations. In Wild Outside, he invites readers into his world of wilderness adventures with fast-paced stories, nature facts, and practical advice for spending time outside. Featuring kid-friendly activities and tips like how to safely observe wildlife, Stroud shows readers that adventure awaits everywhere—whether in a jungle or a city park. Andrew P. Barr's dramatic illustrations amp up the excitement alongside photos of Survivorman's adventures.