CHAPERONE INFORMATION
WRISTBANDS – Please make sure that all readers and chaperones have their wristbands before they arrive onsite. Remember: The CHAPERONE'S CELL PHONE NUMBER MUST BE WRITTEN ON EACH READER'S WRISTBAND. DO NOT WRITE THE SCHOOL NUMBER ON THERE. If a child needs to be reunited with their group, OLA staff will need to get in touch with you ONSITE ASAP! Please have the number written on the outside of the wristband. 
If you need to pick up your wristbands on the day of the Festival, they will be available at the Registration Table located in the main lobby. If available, you will also be able to purchase extra tickets at the Harbourfront Centre Box Office inside the main building across from the Security Desk.
ARRIVAL – We strongly encourage that you arrive no later than 30 minutes before the first ceremony of the day (10:30am) to ensure that the formal event starts promptly at 10:30 am. 
IMPORTANT INFORMATION ON BUSES – Please read and ensure your bus driver has this if you are coming by a chartered bus or coach.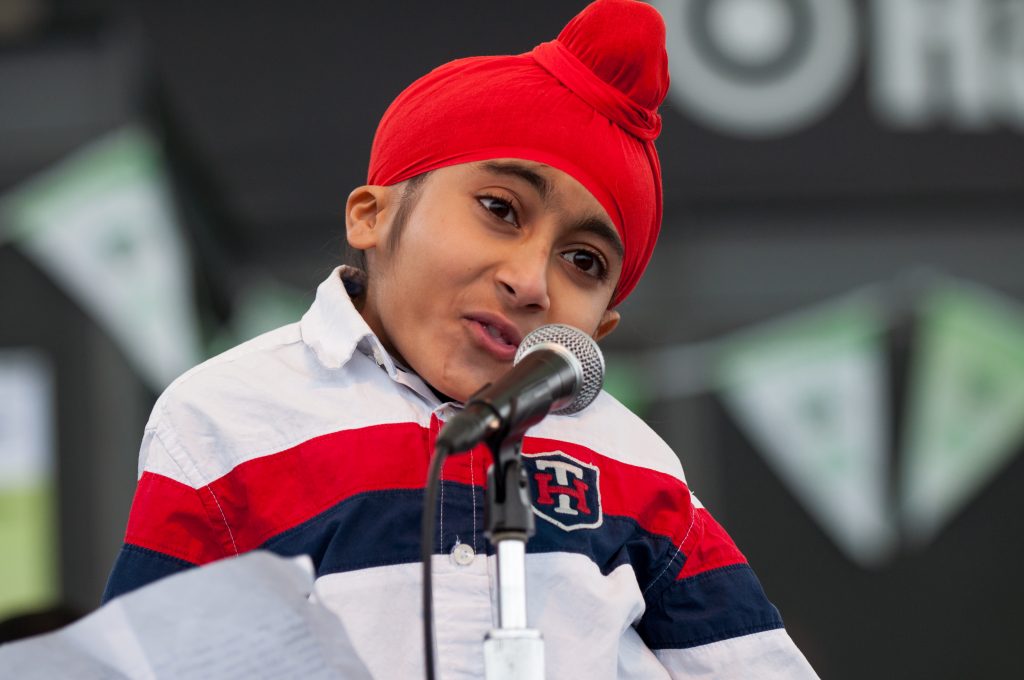 STUDENT PRESENTERS/SIGN CARRIERS – If you have presenters or sign carriers that have been selected to participate in the ceremonies, please make sure they check in 20-30 minutes before the ceremony behind the Concert Stage. Volunteers will check them in and they will meet with their nominees. Immediately after the ceremony the readers can be picked up at the same location. 
FOOD ONSITE – Readers can bring a lunch or purchase from vendors onsite. This year, we will have these vendors onsite:
Beaver Tails – Food Truck

Burgers – Food Truck
Ice Cream
Box Social (inside Harbourfront Centre) – food & coffee
Servery (inside Harbourfront Centre) – Mexican food
Tim Horton's (Queen's Quay Terminal – building east of Harbourfront Centre)
Farm Boy (Queen's Quay Terminal – building east of Harbourfront Centre)
Additional fast food restaurants on Queen's Quay on north side (Starbucks, Popeye's, Subway etc.)
PENCILS/PAPER FOR WORKSHOPS – Some of the activities will require that readers have pencils and paper to participate. Please encourage your readers to come prepared. All workshops that require pencils and paper will mention it in their description.
BAGS/KNAPSACKS – There will be games for kids to participate in and items that may be given away throughout the day. We encourage participants to have a bag to carry their items in if they receive any free books or do crafts. If possible, please label each reader's bag with his or her name and school/library.
CAMERAS – There will be many opportunities for photos throughout the day. We encourage everyone to take lots of pictures, as this is a day you won't want to forget. 
SOCIAL MEDIA – We encourage you to share these photos and the highlights from the Festival via Facebook and Twitter. 
Be sure to tag #forestofreading in your posts.
BUSES – Please ensure that every chaperone is aware of their bus number AND their bus driver's cell phone number. The buses are lined up for 10 city blocks and having the number will ensure that the bus can pull right up to the front to pick you up in a timely and orderly fashion. Please note that once you arrive onsite and before you exit the bus, a Festival volunteer will be boarding your bus to give you important information to ensure that everyone has the most enjoyable time.
PUBLIC TRANSIT (TTC/GO TRANSIT) – If arriving or leaving by TTC or GO Transit, please ensure that you leave lots of time to get to the Harbourfront Centre. There are often delays beyond anyone's control and the staff want to make sure that you thoroughly enjoy your Festival experience. For more information, please visit the TTC's website or GO Transit's website. You may also visit Harbourfront Centre's website. Please be mindful of vehicles and obey traffic signals when crossing at intersections to get onsite.
PARKING – If you are arriving by car there is very limited parking underground at Harbourfront. There is also parking on Rees Street, which is the first street west of Harbourfront Centre. It has street-level parking located on the northside of Queens Quay West, just west of Rees Street. Enter off Queens Quay West at Green P sign.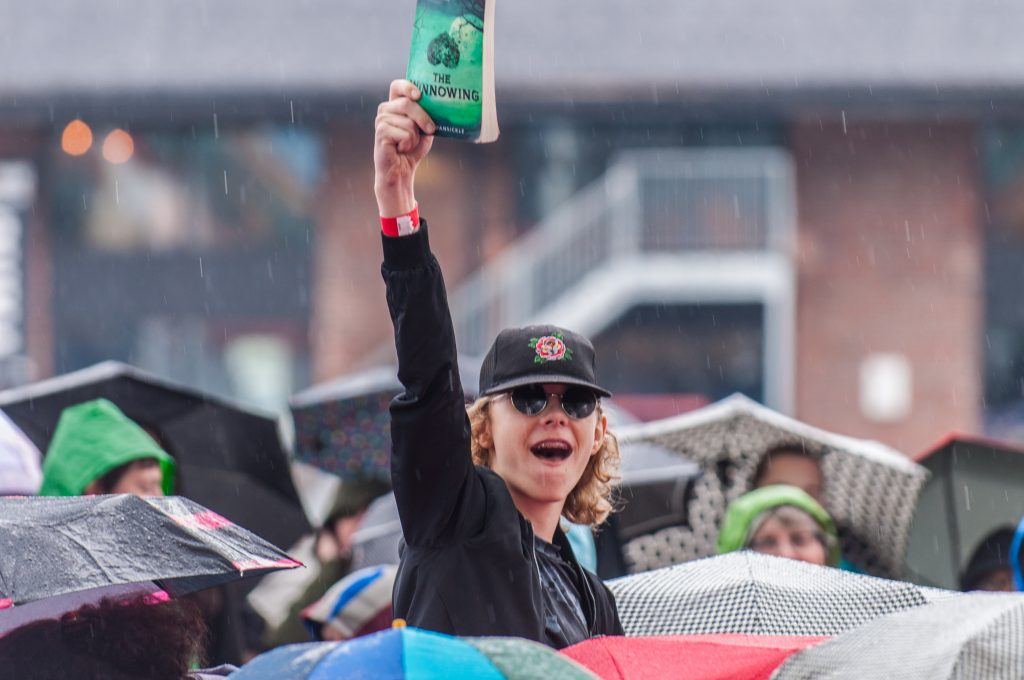 SUNSCREEN/RAIN WEAR – The Festival will happen rain or shine. Please ensure that your readers have enough sunscreen and anything else necessary to protect them from the sun. If it is raining, they will need to walk through the uncovered areas to get to different activities, so please strongly encourage everyone to be prepared. The temperature can often be 10 degrees cooler at Harbourfront Centre, near Lake Ontario. Please make sure your readers are dressed warmly, even if the sun is shining.
ONSITE STORE – The nominated books and Forest products will be for sale onsite at the Festival. Price lists are below so that attendees are aware of the prices before they arrive and can bring the correct amount of money. 
FOREST MERCHANDISE/SWAG PRICE LIST (posted by April 1)
NOMINATED BOOK LIST PRICE (Special for the Festival – posted by April 1)

There will an additional tent with graphic novels and other books and they range will be between $7-$20 with a few exceptions outside this range.
INFORMATION/LOST and FOUND – If one of your readers happens to get separated from the group, please make sure they are aware of where the OPERATIONS TENT is (where the red flags are). There will be an OLA Staff member there at all times. If your reader needs to be reunited with their group we will be able to contact you by the cell phone number that is written on their wristband. This is also where the Lost and Found will be. Please note that the OLA, Harbourfront Centre, and its volunteers/staff are not responsible for lost or stolen items.
AUTOGRAPHING – Nominees will be autographing books and the official Forest of Reading Festival of Trees Autograph Pamphlet only. You must download the pamphlet BEFORE the Festival. There will not be any available onsite. Please note: there is a TWO BOOK LIMIT PER NOMINEE. Please abide by this request.
MAP OF THE EVENT – Please see the map of the events can be found on the website. Details will be posted around the site so people know what is going on at each venue, but please be familiar with the activities onsite. It is going to be busy and VERY exciting so we want to ensure that everyone gets the most out of their Festival experience.
Printable Maps (will post by May 1)
MEETING SPOT – We encourage teachers/library staff/chaperones to plan out a "meeting spot" or a way of making sure readers can reconvene periodically throughout the day. School uniforms, specific t-shirt colours, or even something that can be held in the air for readers to see you can sometimes be helpful.
EMERGENCIES – An emergency plan is in place at the Festival in the event of an emergency. There is also a plan for inclement weather. Should you have any questions or concerns please email Meredith Tutching.
If you experience any issue or emergency while onsite at the Festival, please speak to one of our staff members who will be wearing red vests. If you need a contact at Harbourfront Centre, phone the INFO DESK at 416-973-4000 and hit #2 to get to the INFO DESK. Alternatively, only on the day of the event, you can contact Meredith Tutching, Director – Forest of Reading, at 416-917-8355. THIS NUMBER IS FOR EMERGENCIES ONLY.
FIRST AID – There is first-aid at the security desk inside Harbourfront Centre. If more care is needed they will contact 911 or another health professional based on the situation.
WORKSHOPS/PROGRAMS – Workshops at the Festival are a wonderful experience for all of those attending. Please be mindful of the fact there is limited space and seating will happen on a first come first served basis. The rooms/tents the workshops/programs are being held in have maximum capacity limits. Please talk to your readers before, or en route, to find out exactly what they are interested in. The events are all "free-flowing," but we do encourage your readers to stay at a session once they have chosen that one. If they wish to move, please make sure they do so VERY quietly and do not disrupt the person leading the program or the other participants.