Swept Away: Ruth Mornay and the Unwanted Clues
Written by Natalie Hyde
Published by DCB Young Readers/Cormorant Books
FOREST FRIDAY AUTHOR VISIT
Releases March 1 at 1pm ET
BOOK SYNOPSIS
A frog-shaped garden sprinkler, a mismatched pair of ladies' gloves, and an ugly flower picture made of human hair do not add up to murder. Or do they?
Eleven-year-old Ruth's friend and neighbour, Bea, has just died — an accidental drowning. Or so they say. Ruth's not so sure. Bea was sixty-four and knew the area better than anyone. She was much too careful to get swept away by the flooded Teeswater River. And now Bea's godson, Saul, says his godmother had premonitions that she would be murdered. She even left behind a box of clues to help Ruth figure out what happened.
Accident or murder? That's the case Ruth, Saul, and Ruth's wayward pet chicken, Dorcas, have to crack.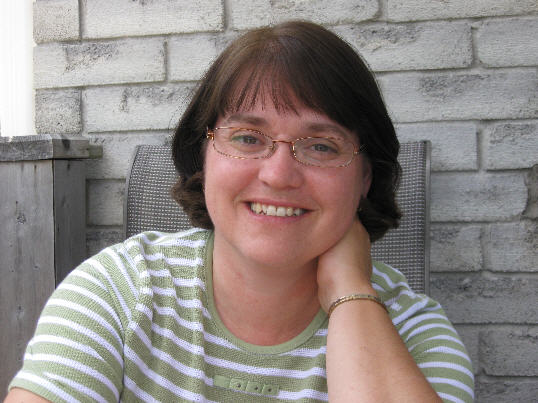 NATALIE HYDE
Natalie Hyde writes both fiction and non-fiction for young readers. She has always enjoyed solving puzzles, codes, and mysteries. She once thought she would love to be a detective like Nancy Drew, but she is not a fan of dark places, creepy basements, or spider webs. So instead, she stays put and lets her characters have the adventures and solve the mysteries. Natalie lives with her family on a farm with fourteen lovely Rhode Island Red hens (including Dorcas) and an ex-service dog named Louie.

CONTACT INFORMATION
Website: nataliehyde.com
Twitter/X: @nataliehyde
Instagram: @gnat144
BIBLIOGRAPHY
Fiction:
Swept Away: Ruth Mornay and the Unwanted Clues. Toronto: Dancing Cat Books, 2023.
Up the Creek. Toronto: Scholastic Canada, 2021.
Mine! Toronto: Scholastic Canada, 2017.
Hockey Girl. Markham: Fitzhenry & Whiteside, 2012.
I Owe You One. Victoria: Orca Young Readers, 2011.
Saving Armpit. Markham: Fitzhenry & Whiteside, 2011.
Non-fiction:
More Than Words. DCB Young Readers, 2023.
Stay Silent: A Refugee's Escape from Colombia. Clockwise Press, 2016.
Stay Strong: A Musician's Journey from Congo. Clockwise Press, 2015.
Glow-in-the-dark Creatures. Markham: Fitzhenry & Whiteside, 2014.
Cryptic Canada. Toronto: Owlkids Books, 2012.