The Secret Pocket
Written by Peggy Janicki 
Illustrated by Carrielyn Victor
Published by Orca Book Publishers
BOOK SYNOPSIS
The true story of how Indigenous girls at a residential school sewed secret pockets into their dresses to hide food and survive.
Mary was four years old when she was first taken away to the Lejac Indian Residential School. It was far away from her home and family. Always hungry and cold, there was little comfort for young Mary. Speaking Dakelh was forbidden and the nuns and priest were always watching, ready to punish. Mary and the other girls had a genius idea: drawing on the knowledge from their mothers, aunts and grandmothers who were all master sewers, the girls would sew hidden pockets in their clothes to hide food. They secretly gathered materials and sewed at nighttime, then used their pockets to hide apples, carrots and pieces of bread to share with the younger girls.
Based on the author's mother's experience at a residential school, The Secret Pocket is a story of survival and resilience in the face of genocide and cruelty. But it's also a celebration of quiet resistance to the injustice of residential schools and how the sewing skills passed down through generations of Indigenous women gave these girls a future, stitch by stitch.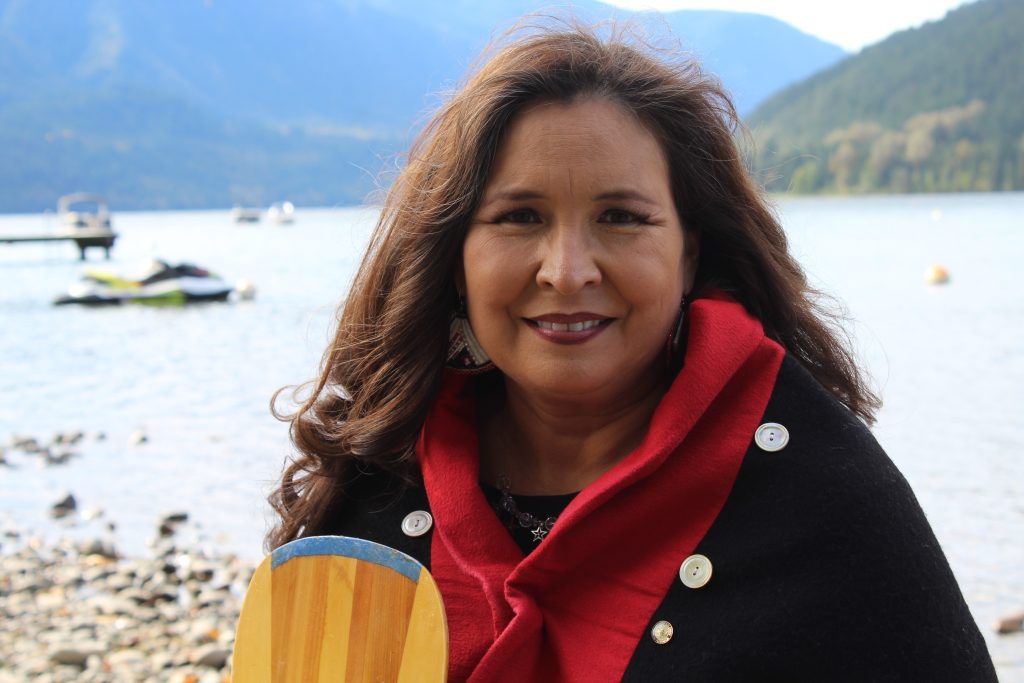 PEGGY JANICKI
Peggy Janicki, an esteemed teacher and union leader has a multifaceted journey to writing her first book. With over two decades of teaching experience, Peggy's educational path began with her 2001 graduation from UBC's NITEP program, followed by a 2014 Masters in Education in Indigenous Knowledges and Indigenous Pedagogies. Peggy is now an accomplished author, debuting with "The Secret Pocket" in April 2023, and a talented Salish Weaver, showcasing her art alongside her late mother's in the Leonor R. Fuller Gallery in Olympia, Washington, in November 2022. Her cultural ties extend to being a Canoe Puller, a dip net fisherwoman, and a Salish Weaver. Her role in teaching about Indian Residential Schools since 2002 has led her to guest lecture at universities like VIU, SFU, UBC, and UFV. Her role-drama history lesson, taught in various teacher programs, Pro-D sessions, and conferences, led her to be interviewed in UBC's MOOC "Reconciliation through Indigenous Education".
"The Secret Pocket" has been integrated into UFV's Indigenous and Mission School District's Graduate Initiative , also, Peggy's story of her mother is woven into three Salish Weavings, including one for Chilliwack Teachers Association's Teacher Inquiry Project (CTA TIP) and two for the Dan Milo Longhouse Society. Peggy's educational involvement extends to the Siyaye Yoyes Regional Committee since 2002, planning and hosting the Indigenous Student Leadership Conference. Her dedication has earned her two notable awards: the "Innovative Initiative" Award from Abbotsford Community Services in 2012 and the "Innovative Educator" Award from the national Indspire
CONTACT INFORMATION
Website: peggyjanicki.ca
Instagram: @buildingtheravenempire
Twitter/X: @peggybe_oonujut
Tiktok: @peggyj10101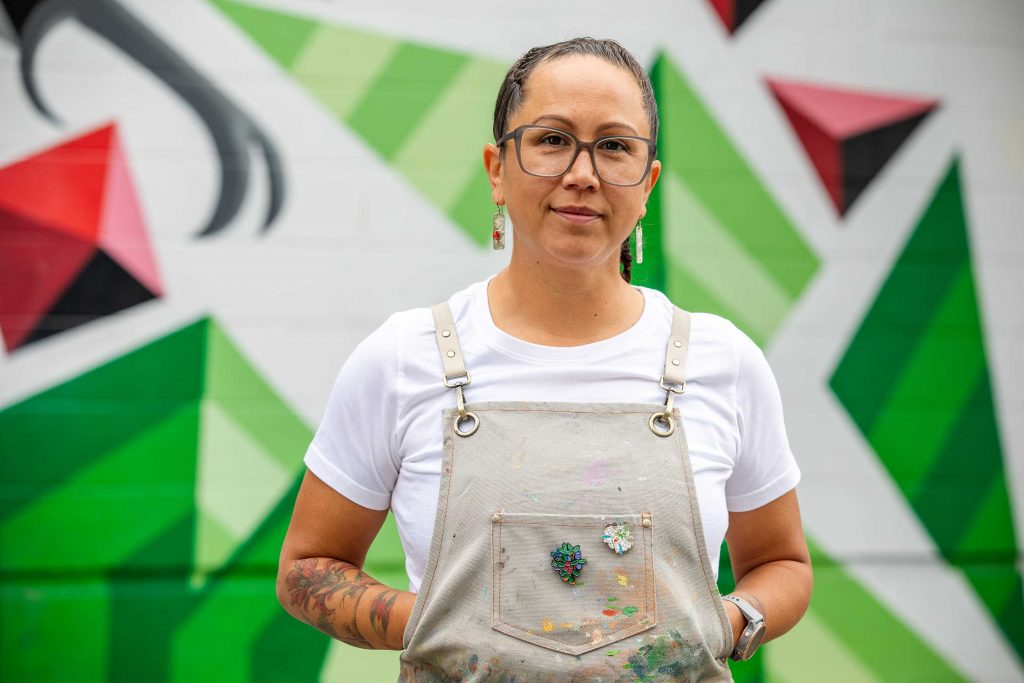 CARRIELYN VICTOR
Eastern Fraser Valley based artist Carrielynn is a descendant of Coast Salish ancestors that have been sustained by S'olh Temexw (their land) since time immemorial and Western European ancestors that settled around Northern Turtle Island beginning in the 1600's. Carrielynn was born and raised in S'olh Temexw and nurtured by many parents, grandparents, aunts and uncles. 
Along with owning and operating an art practice, Carrielynn maintains a communal role as a plant practitioner, and is the Manager of Cheam First Nation's Environmental Consultancy. The philosophy and responsibilities of these land based communal roles are fundamental for informing the story, style and the details of Carrielynn's artwork. 
With ancient and modern design principles combined, Carrielynn's professional artistic practice takes the form of murals, canvas paintings, drums, paddles and in recent years, illustrations for scientific reports and children's books.
CONTACT INFORMATION
Website: carrielynnvictor.com
Instagram: @carrielyn_victor