BOOK SYNOPSIS
After inadvertently starting rumours of a haunted cemetery, a teen befriends a ghost in this brand-new young adult novel exploring grief and belonging by the critically acclaimed and bestselling author of The Marrow Thieves series.
Winifred has lived in the apartment above the cemetery office with her father, who has worked in the crematorium, all her life, close to her mother's grave. With her sixteenth birthday only days away, Winifred has settled into a lazy summer schedule, lugging her obese Chihuahua around the grounds in a squeaky red wagon to visit the neglected gravesides and nursing a serious crush on her best friend, Jack.
Her habit of wandering the graveyard at all hours has started a rumour that Winterson Cemetery might be haunted. It's welcome news since the crematorium is on the verge of closure and her father's job is being outsourced. Now that the ghost tours have started, Winifred just might be able to save her father's job and the only home she's ever known, not to mention being able to stay close to where her mother is buried. All she has to do is get help from her con artist cousin to keep up the rouse and somehow manage to stop her father from believing his wife has returned from the grave. But when Phil, an actual ghost of a teen girl who lived and died in the ravine next to the cemetery, starts showing up, Winifred begins to question everything she believes about life, love and death. Especially love.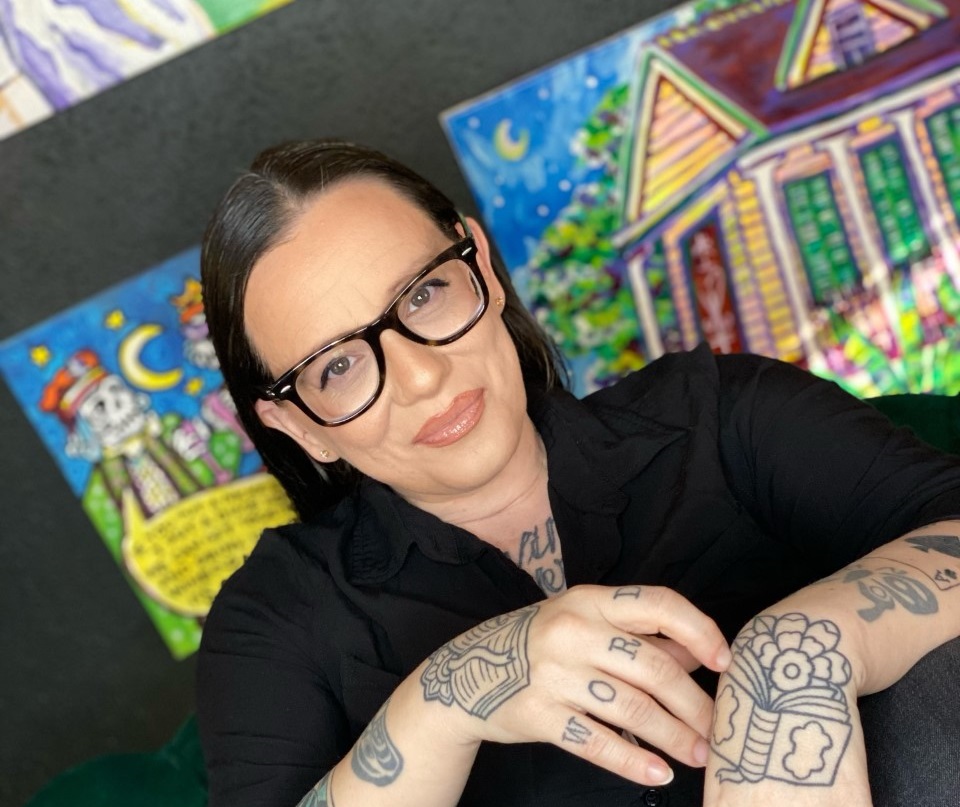 CHERIE DIMALINE
Cherie Dimaline's 2017 book, The Marrow Thieves was declared by TIME magazine one of the Best YA Books of All Time. This international bestseller has won the Governor General's Award and the prestigious Kirkus Reviews Prize for Young Readers and was named a Book of the Year on numerous lists including the National Public Radio, the School Library Journal, the New York Public Library, the Globe and Mail, and the CBC. Her novel Empire of Wild became an instant Canadian bestseller and was named Indigo's #1 Best Book of 2019. Hunting By Stars, the sequel to The Marrow Thieves, was a 2022 American Indian Library Association Honor Book. Cherie lives in her home territory where she is a registered and active member of the Georgian Bay Métis Community. She is currently writing for television and screen. In 2023, she released three new books. Her witchy novel VenCo hit stores in February 2023 and was optioned by AMC Studio and Network. She also released the YA ghost story Funeral Songs for Dying Girls in April 2023, and the memoir An Anthology of Monsters in May 2023.
CONTACT INFORMATION
Website: cheriedimaline.com
Instagram: @cherie.dimaline
BIBLIOGRAPHY
Seven Gifts for Cedar (2010)
Red Rooms (2007)
The Girl Who Grew a Galaxy (2013)
A Gentle Habit (2015)
The Marrow Thieves (2017)
Empire of Wild (2019)
Little Bird Stories, Volume 9 (2019)
Hunting by Stars (2021)
VenCo (2023)
An Anthology of Monsters: How Story Saves Us from Our Anxiety (2023)
Tiger Lily and the Secret Treasure of Neverland (2023)
Funeral Songs for Dying Girls (2023)